iOS 13 Should Not Be Apple's Windows 10
On September 19, 2019, Apple released iOS 13, perhaps one of the biggest releases of its mobile platform. Since then in the span of ten days, iOS has gone from iOS 13 to iOS 13.1 to iOS 13.1 to, now, iOS 13.1.2. The rapid rate of releases isn't exactly good news as only one (13.1) actually brought new features. In fact, having two maintenance releases within just three days may be cause for concern for iOS and perhaps even macOS users.
iOS 13 has started out on the wrong foot but Apple has hopefully watched Microsoft long enough to know what steps to take to prevent it from becoming its version of Windows 10.
Big shoes to fill
Apple has been both popular and notorious for its eye for detail. That's especially true in the physical design of its products but also applies to its digital ones. Apple is not one to take design lightly and almost every choice has been thought out or debated.
Even if you disagree with those design choices, you'd be hard-pressed to deny the rationalization that went into them.
Apple's legacy has always been its design and its quality and those two go hand in hand. When people bemoan the almost exorbitant price tags on products and services, fans are ready to argue that they are getting more than just the product itself but the care and thought that went into creating them, from the hardware to the software and everything in between and on top.
The past years, however, have seemingly been unkind to that legacy and things seem to be coming to a head in the latest iOS release.
Unlucky number
Some might call on superstition but iOS 13 might be bad luck for the company. Initially thought to be delayed, iOS 13 did launch as promised but it didn't come with all the features promised at WWDC. Worse, it actually came with big bugs that made some even suggest to do a clean upgrade from a freshly reset device rather than an already configured one.
iOS 13.1 was scheduled for September 30 but Apple pushed the date nearly a week earlier in order to also include important bug fixes. Three days later, it would roll out 13.1.1 to quickly squash critical bugs, followed by yet another important 3.1.2 maintenance release three days later again. Even with all that, iOS users still experience some problems that have to do with mismatched versions of apps because macOS 10.15 Catalina is still nowhere to be seen.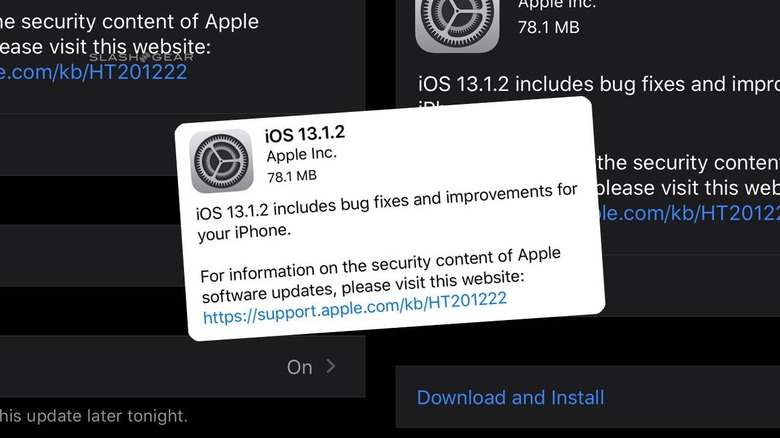 Slippery slope
It would be an exaggeration to be alarmed over this rather problematic release except this isn't the first time Apple managed to botch up a big iOS launch. At least this time there have been no or extremely few reports of bricked devices after upgrading. Some previous updates, unfortunately, were not as kind to users.
There have also been times in recent memory when Apple's famed attention to detail and quality was put into question. The nefarious Group Face Time bug even caught the notice of Congress. Apple's designs for the trash can and now cheese grater Mac Pros have some scratching their heads in disbelief.
It might be unfair to attribute Apple's seemingly declining quality control on the death or departure of key Apple executives but it's also hard to deny this isn't the Apple of yesteryears anymore. Whether it's for the better or not is fortunately too early to tell.
Agility not Haste
The good news is that Apple is in a better position to address these lapses than Microsoft. To give credit to Apple, its rapid releases the past days proves that it can quickly respond to problems.
The question, however, is whether those bugs should have made it out to the public in the first place, especially given how critical they are and how quickly they've been spotted. Those are the bugs you'd expected would have been quickly caught during tests.
Unlike Microsoft, we're unfortunately not privy to Apple's internal testing processes for iOS and macOS or if there have been any issues in the company related to those. We can only see the results and observe that there have been noticeable lapses in that process and that there is an urgent need to address it.
Apple has become increasingly aggressive in marketing itself as a privacy-focused company but if the software those services run and rely on is unstable, buggy, and exploitable, company policies might not matter that much in practice.