Ion V2000 Computer Case is the DIY version of the all in one PC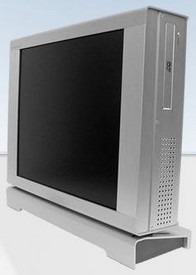 Dell ripped off the form factor an now you can too! Just, whatever you do, don't call it the ONE, I am sure even you, a simple civilian, can come up with your own unique name. Anyways, it's a do it yourselfer's dream, you can build your computer how you want it inside this case and it's an all in one PC with monitor and all.
It comes with the 19" monitor you see in the picture, an 8-in-one card reader, and a 2 way speaker. There is also a separate power supply for the monitor, and there is a 350 watt power supply, built into the case there is one optical drive bay, a pair of USB ports, a firewire port, and mic and line out jacks.
Everything else is one you. Might I recommend that new Spider platform AMD is dropping for the guts?
Ion V2000 Computer Case – the DIY all in one PC you've always wanted [via redferret]