ION iTYPE adds full-sized keyboard to iPhone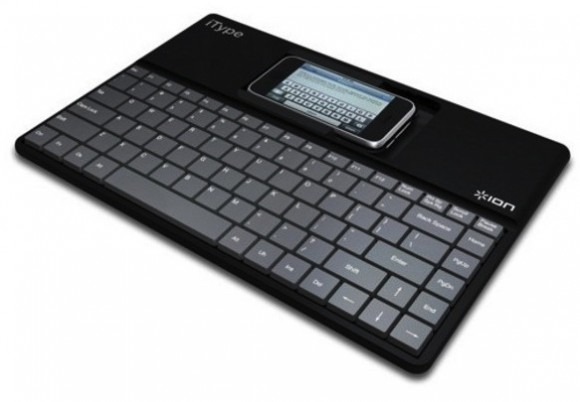 ION are better known for their USB-enabled turntables and tape decks, but the company has announced a slightly different type of peripheral at CES 2010 this week.  The ION iTYPE is a full-sized QWERTY keyboard designed for use with the iPhone or iPod touch, powered by batteries so you can even take it mobile.
Easier text entry on the Apple smartphone is one of the most common requests we see, given many users have been able to retire or at least semi-replace their notebook or netbook with an iPhone.  Recently we saw a Bluetooth iPhone keyboard driver that would allow you to hook up any wireless text-entry peripheral, such as a Stowaway folding mini-QWERTY 'board.
It's not entirely clear from ION's specs exactly how the iTYPE connects to the iPhone, whether it's a wired or wireless hook-up.  We're also a little unsure about the keys, which look a bit too ZX Spectrum for our liking.  Still, we'll find out for sure when the iTYPE goes on sale in Q2 2010, price tba.
Press Release:
ION iTYPE TRANSFORMS iPhone® INTO AN ULTRA-PORTABLE DESKTOP COMPUTER

Full-Sized Desktop Keyboard Enables Fast, Accurate Text Entry on iPhone

Cumberland, R.I. (Jan. 7, 2010) – ION (www.ionaudio.com), a leader in consumer audio and entertainment technology, announces iTYPE, the world's first desktop keyboard designed exclusively for iPhone. ION will unveil iTYPE at the Consumer Electronics Show at the Las Vegas Convention Center, Central Hall Booth 11714, Jan. 7-10, 2010.

iTYPE is a comfortable, familiar computer keyboard for use with iPhone. This first-of-its-kind battery-powered peripheral transforms the handheld device from a touch-screen mobile phone into an ultra-portable computer. iTYPE features a standard QWERTY keyboard layout with full-sized keys and the complete functionality of a desktop keyboard.

Travelers, vacationers and other iPhone users on the go will appreciate the weight-saving iTYPE, which can enable them to complete trips without taking their notebook computer. "For years, travelers have wanted to find a way to get out of the office or away from home without having to carry a heavy laptop computer," said Gregg Stein, Managing Director, ION. "iTYPE converts iPhone into the first truly complete travel-computing solution."

iTYPE will be available from ionaudio.com during Q2 2010.

[via Mike Elgan]