Ion Ergonomic Air Mouse Glove Is Odd But Interesting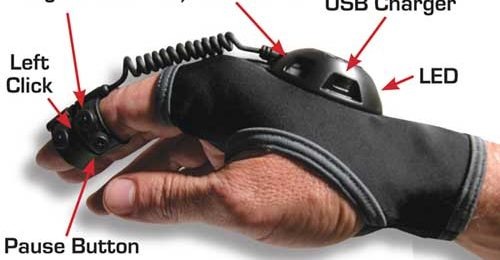 I have seen all sorts of weird mice over the years with different rodents aimed at gamers and those that have carpal tunnel. Those mice are usually traditional designs that you hold in your hand and move around on your desktop. I have seen some nice designed for use in the air from across the room aimed at people who give a lot of presentations or need to control a media center PC from across the room.
A new mouse that has surfaced from a company called Ion Wireless may be the strangest I've ever seen. The mouse is called the Ion Air Mouse and it uses a glove style with little buttons worn on the finger for the right and left click. Apparently, the mouse does require little bit of set up on your computer by activating the clock in the control panel allowing you to using your wrist.
It appears that the click buttons for left and right, which are worn on the index finger are pressed using the thumb. The mouse also has a pause button underneath the left and right click buttons so if you need to type or get up from your desk you won't need to take the glove off. The mouse is wireless and rechargeable via a USB port with a range of 35 feet. The mouse sells for $79.99 and is available now.
[via EverythingUSB]