iON Air Pro 3 Wi-Fi ruggedized video camera can survive 49 feet of water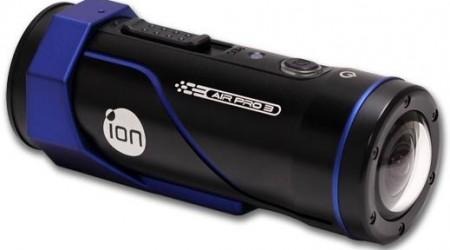 iON America has announced the launch of its third-generation wearable high definition video camera. The camera is called the iON Air Pro 3 Wi-Fi and it has a 12-megapixel image sensor. The camera is one of the most water resistant action cameras around able to shoot video at depths of up to 49 feet.
The integrated Wi-Fi connectivity allows the user to share video recordings with other devices using a wireless network. The camera supports 1080p recording. The device is designed for action sports, athletes, videographers, and just about anyone else who needs to record video using a device that can withstand water and impacts.
The company also has a number of new mounting options for the camera designed to add versatility. The Wi-Fi connectivity works with applications available for Android and iOS devices. Those apps allow the user to shoot video on the camera and directly upload the video to Facebook, YouTube, and other locations.
The camera is also able to record video at 60 frames per second and features anti-shake technology to minimize the effect of vibration. The camera also features a built-in microphone with noise reduction to minimize wind noise during recording video playback. That feature is particularly important for those who plan to use the camera on a racecar or motorcycle. The lens has fog free technology and the camera will last for 2.5 hours per charge. It offers viewing angles of 160-degree, 140-degree, and 150-degree. The camera is available for pre-order now for $349.99 with deliveries starting on November 15.
SOURCE: Photography Blog