iOmega StorCenter ix2 NAS server is Bluetooth-friendly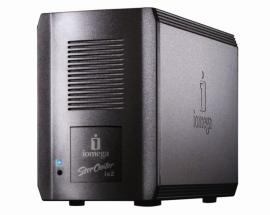 The iOmega StorCenter ix2 NAS server was announced today and it's getting a bit of Bluetooth support, though not as much as many would have liked to see.  
In fact, the new NAS server can only really be described as "Bluetooth-friendly," which means it will support some USB Bluetooth dongles. You would have to pay extra for the dongle, though it would allow you to send files and such from your mobile devices straight to the server for backing up or for sharing with others.
Other notables include that there is no RAID 0 option, JBODconfiguration on the hard drive with the option of changing it to RAID 1, UPnP, DLNA, EMC Retrospect Express backup software, two USB ports and more. The NAS server can also be used to support an Axis video surveillance camera. The iOmega StorCenter ix2 NAS server is available now in two models, the 1TB and 2TB versions, which cost $300 and $480, respectively.  
[via Crave at CNET]