Iomega iConnect hands-on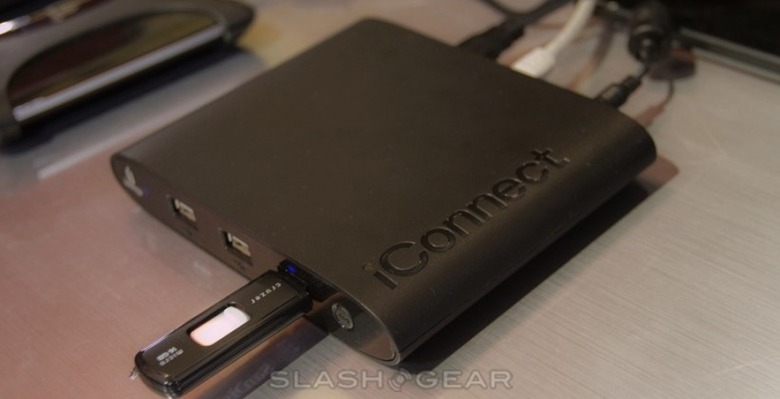 We called Iomega's iConnect a Pogoplug derivative back when the company announced it last week, but having caught up with the company at CES 2010 it seems we may have been a bit too harsh.  Ostensibly a straightforward way to get USB storage hooked up to your network, in fact sharing HDDs and flash drives is just one string to the iConnect's bow.  Check out our demo video and more details after the cut.
An instant improvement over the Pogoplug is the fact that Iomega have integrated WiFi b/g/n into the iConnect, as well as its gigabit ethernet port and four USB 2.0 ports, so you have a choice of wired or wireless connectivity.  It'll also turn any attached storage into a media server, supporting both DLNA and iTunes server standards, as well as sharing any printer plugged in across the network.
The copy button – just to the right of the thumb drive in the above image – is also pretty flexible, since you can set it up to automatically move data from a newly-inserted drive either to another local volume or to a point anywhere else on the network.  Alternatively, you can set up a transfer macro in the other direction, say if you want a daily copy of your documents folder to be automatically transferred to your memory stick.
Like the Pogoplug, there's also password-protected remote access via a dedicated site.  Pricing isn't done any harm by Iomega's economy of scale, and the iConnect will come in at $99.99 when it goes on sale in February 2010.  We're looking forward to trying the iConnect out when our review unit arrives.
[vms ba543ae44b22bd110a1d]