IOGEAR USB 3.0 SuperSpeed card readers and 4-port hub announced

This week IOGEAR has announced three new USB 3.0 devices, each of them with data transfer speeds up to 10 times that of previous generation USB 2.0 devices. What we've got here is a SuperSpeed USB 3.0 4-point hub, a Multi-Card Reader/Writer, and an SD/Micro SD Card Reader/Writer, each of them available for under $50. What USB 3.0 allows is improved connectivity and efficiency between computers and peripherals that transfer digital content and create and store it as well – 5Gbps speed at the head of the pack.
You'll be able to send and receive data simultaneously with USB 3.0, each through different data lanes, all while requiring less power than ever before. As IOGEAR notes, you'll be able to move a 25-30GB HD movie to a media device in 60-70 seconds where the same transfer might have taken more than 15 minutes with USB 2.0. Each of these bits of gear available from IOGEAR works with USB 3.0 and is backwards compatible with USB 2.0 and 1.1 devices and connectors – no worries!
The IOGEAR SuperSpeed USB 3.0 4-Port Hub (GUH374) allows you to transfer data between your computer and up to four devices. You'll be able to hot-swap between devices of your choice here, devices such as high-resolution webcams, hard-drives, storage devices of all kinds, docks, and USB 3.0 Multi-card readers. This device runs for $49.95 and is the most expensive of the three devices being announced today.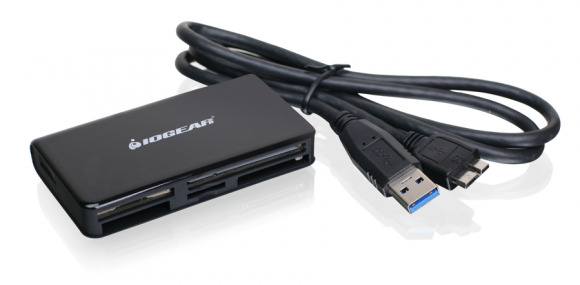 The SuperSpeed USB 3.0 Multi-Card Reader/Writer (GFR381) costs $37.95 and is able to transfer data from 59 different memomry card formats to your computer at the ever so classic "blazing speeds" of 5Gbps. That's fast! You'll be able to insert multiple memory cards into this device at the same time. Finally there's the SuperSpeed USB 3.0 SD/Micro SD Card Reader/Writer (GFR304SD) which at $16.95 allows you to work with SD, SDHC, SDXC, MicroSD, MicroSDHC, MicroSDXC, MMC II, RS MMC, Ultra II SD, Extreme SD and Extreme III SD at ultra low-profile portability. The size of a USB thumb drive and completely backwards compatible.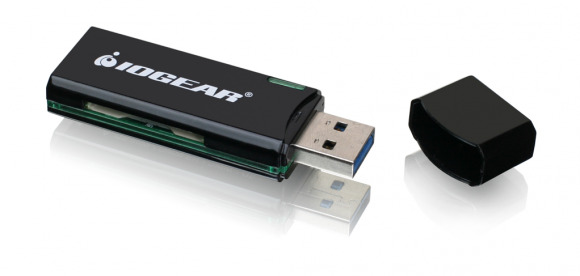 The massive supported media list for these devices reads as follows:
• Compact Flash/Micro Drive: CF-Type I, CF-Type II, CF-Ultra II, Microdrive, CF-Pro II, CF-Extreme, CFExtreme III, CF-PSP II, CF-Supper, CF-Ultra X

• SD/SDHC: SD, SDHC, SDXC, MicroSDXC, SD-Pro, SD-Pleomax, SD-Pro C, Ultra II SD, Ultra II Plus SD, SD-Extreme III, SD-Ultra X, SD-Turbo, SD-Supper, SD Max, Mini SD, Mini SD-Pro, Mini SD-Pleomax, MMC, MMC-Pleomax, MMC Pro, HS-MMC, MMC Plus, MMC-Plus Turbo, RS MMC, RS MMC-Pleomax, RS MMCSpeed, RS MMC-Max, MMC Mobile, MMC Mobile-ProC, MMC Mobile-Pocketnet, MMC Micro (adapter required)

• Olympus DC Card: Olympus DC Card, Olympus DC Card(M), Olympus DC Card(H)

• MicroSD / microSDHC: microSD / microSDHC, T-Flash

• Memory Stick: MS, MS-Magic Gate, MS-PRO Magic Gate, HS-MS-PRO Magic Gate, MS-DUO, MS DUO Magic Gate, MS-PRO Duo, HS-MS-PRO Duo, HS- / MS-PRO Duo Magic Gate, MS-PRO Duo-PSP, MS-PRO Duo-Gaming Memory Stick

• M2: Memory Stick Micro (M2)
Sound like the speed solutions for you in the very near future?