IOGEAR releases printer switch for PC and Mac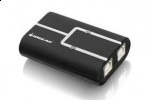 Sometimes, it's the small things in life that make me happy. And simple gadgets like the one released by IOGEAR today do exactly that. The Printer Auto Sharing Switch has two ports and it works with both Macs and PCs.
I know it's not much to look at, but this is no doubt convenient. IOGEAR is claiming this switch is the first of its kind to completely recognize both PCs and Macs. You can use two computers that run on either platform with this switch. All you have to do is plug the computers into the switch and the switch into the printer. That's all there is to it.
It works with any USB printer and can detect which computer is requesting a print job automatically. That's pretty convenient, if you ask me. The switch is powered by the USB bus and requires Windows 2000 and up or Mac OS X Panther and up. You can get your hands on the IOGEAR Printer Auto Sharing Switch today for $40.