Iogear announces Avior AV solutions line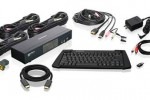 Iogear makes a full line of gear and peripherals for computers and notebooks. The company also has a new line of AV products that are aimed for the enthusiast looking for complete control and integration of multiple AV components.
The new line of gear is called the Avior series and includes a collection of switches, splitters, HDMI adapters, cables, extenders, and wireless USB transmitters. The most interesting product in the Avior line is the HDMI Control Center. The Control center connects to several HDMI devices from Blu-ray players to computers.
Once all your gear is connected to it, you can access and control the center via an included 2.4GHz wireless keyboard that features a built-in laser trackball and scroll wheel. The device is HDMI 1.3 and HDCP compliant and the Control Center has two USB ports for sharing photos and other content between computers. The device even includes all the cables needed for connecting up to four HDMI devices.