InvenSense MPU-3000 is world's first motion processing unit for smartphones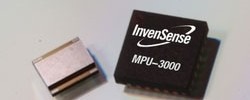 Some of the coolest gadgets and smartphones on the market today take advantage of motion sensing and touch control. The iPhone is partly responsible for bringing motion sensing to the masses with the accelerometer built in to rotate the screen automatically. The iPad unveiled yesterday has the same tech built-in.
InvenSense has announced the world's first motion processing unit with a digital 3-axis gyro and built-in sensor function. The device is called the MPU-3000 and features a 3-axis gyroscope combined with a digital motion processor and is aimed specifically at the smartphone market. The chip is appropriate for use with motion controlled gaming in a mobile platform as well as stabilization of images and video.
The MPU-3000 has a footprint of 4x4x0.9mm and uses either the I2C or SPI digital interfaces. A secondary I2C interface is also built-in allowing connection to an accelerometer. Other features of the device include internal clock generation, embedded temperature sensor, programmable interrupts, and FSYNC pin for synchronizing image, video, and GPS data. The chip is sampling now at under $4 per unit.