Intuos Pro Small rounds out Wacom's trio of pen tablets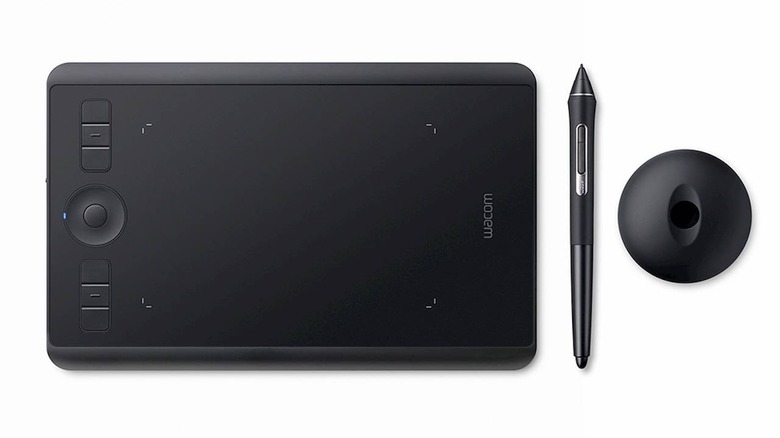 It's been a little while since we last heard from Wacom's Intuos Pro line, but today it stepped back into the lineup with a new Pro Small tablet. The new Intuos Pro Small will be joining the existing Pro Medium and Large tablets, and Wacom says that with its launch, the Intuos Pro line is now complete. If you've been considering an Intuos Pro but were turned away by the price of the Medium and Large tablets, this one might be more up your alley.
While the Pro Medium and Large cost $379.95 and $499.95 respectively, the Small clocks in a much more palatable $249.95. Of course, you'll have a smaller space to work with as a compromise to that lower price, though Wacom says that the tablet features the same-size working area of the original Pro Small (6.3 x 3.9 inches).
The Pro Small has a lot in common with its two bigger brothers, aside from the difference in size. It's also worth pointing out that the Pro Small has six express buttons while the Medium and Large models each have eight. Beyond that, though, all three should function pretty much the same, especially since they all come packed with the Pro Pen 2.
The Pro Pen 2 is has been the topic of a fair amount of conversation since it was first revealed back at CES 2017. The pen is capable of detecting 8,192 levels of pressure, making it four times more accurate than its predecessor in that regard, and it's also capable of around 60 levels of tilt recognition. It doesn't need a battery to function, either, so it's one less thing to recharge.
If you already own a Pro Pen 3D or a Pro Pen Slim, those are compatible with the Intuos Pro Small as well. The Intuos Pro Small is available from both Amazon and Wacom's store today, so if you've been looking for a portable pen tablet, it sounds like this is worth checking out.