Interpark Biscuit 3G ereader hits Korea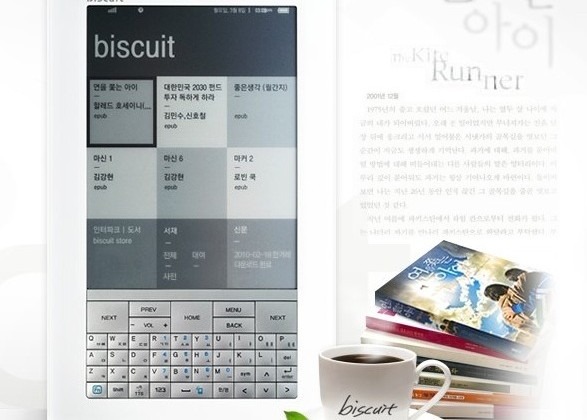 Another week, another oddly named ebook reader.  Korean shopping heavyweight Interpark have announced their own entrant to the ereader market, in the shape of Biscuit.  Similar to the Amazon Kindle, though with a distinctive keyboard layout that moves the core navigation buttons to below the display rather than their more common edge positions, the Biscuit includes 3G connectivity for mobile downloads of ebooks and newspapers.
As with most other ereaders we're seeing, they've used a 6-inch E Ink 600 x 800 display capable of 8 levels of grayscale, and paired it with 4GB of internal storage and a battery good for up to 9,000 page-turns (presumably with wireless turned off).  Supported formats include epub, Adobe PDF, MS office (doc, docx, ppt, pptx, xls, xlsx), hwp, TXT, image (bmp, jpg, png, gif) and MP3 files.
However, one area where Interpark haven't so closely followed Amazon is in their actual range of ebooks, which currently stands at around 25,000 titles.  It's on sale in Korea now, priced at 398,000 won ($350).
[via CNET Asia]