Intempo IDS-01b iPod Dock and Speaker Station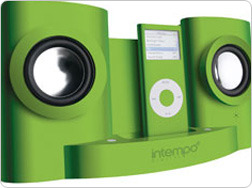 Like it said a few days ago when I report Rockridge's VTS-384 that you could probably find tons of docks and speakers for your precious iPod from electronic stores or online vendors. If you own an iPod and have never had one of these speakers, here is one of your choices to keep in mind. Intempo has introduced IDS-01b iPod speaker dock that also works with your other MP3 players, such as Mini Disc, MP3, Walkman, and personal DAB.
Unlike its competitors, this IDS-01b comes in metallic colors that match up with the second-generation iPod nano. This active-stereo speaker system has 6 watt per channel speaker and allows you to charge, synchronize, and listen to your iPod. It is also compatible with all iPod hardware including nano and video. Synchronize with your Macs or PCs via USB port.
Price: £35 ($69)
Intempo launches color-matching iPod speakers [via electronista]