Intel's second-generation Cactus Ridge Thunderbolt controller ships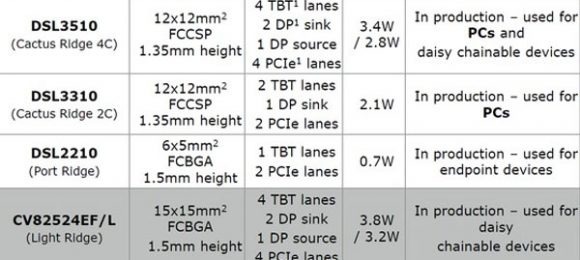 The first place then Intel's Thunderbolt port landed was inside Apple MacBook computers. The port is set rollout to other computers as well. Intel is now shipping the second-generation Thunderbolt controllers coming just in time for new breed of Mac computers and other offerings. The new Thunderbolt controllers previously code-named Cactus Ridge.
The shipping of these new Thunderbolt controllers seems to be in line with updated MacBook Pro notebooks expected be announced in late May. According to reports, Intel was late getting the new controllers actually shipped to manufacturers, which is resulted in the delay of a few computer motherboards. There are two versions of the new Thunderbolt controller including a DSL3510 and a DSL3310.
The two controllers share the same 12 x 12 mm square, 1.35 mm height. The difference comes in I/O and the TDP of the controllers. The 3510 has four TBT lanes, to DP sink, two DP (DisplayPort) source, and four PCIe lanes with the TDP of 3.4 W or 2.8 W. The 3510 controller will be used for PCs and daisy chainable devices. The 3310 has a pair of TBT lanes, one DP sink, and two PCIe lanes with a TDP of 2.1 W and will only be used in PCs.
[via VR-Zone]