Intel's Next Unit of Computing to cost around $400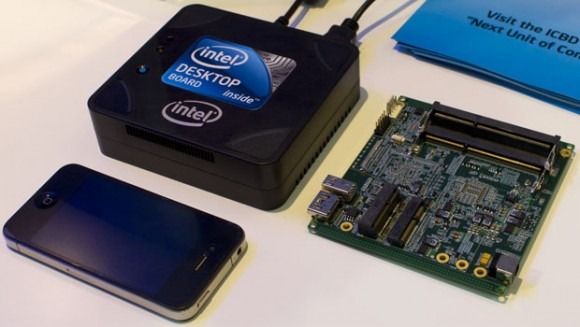 Intel seems to be dabbling in a few different areas right now. The company has the desktop and laptop market locked down pretty tight, and is now attempting to breach the mobile space with Medfield, and may be looking to target miniature computers and HTPCs next. Back in April the company unveiled its "Next Unit of Computing" box, which packed a Sandy Bridge chip, Thunderbolt, HDMI, and USB all into a 10cm by 10cm box, and now rough pricing has been revealed.
The Tech Report stopped by Computex to get a little bit more info about the tiny computer. Intel says it has seen a strong demand for the product, and expects internet retailers to offer it when the box launches in the third quarter. It's expected to cost around $400.
It won't be competing head-to-head with the Raspberry Pi, then, but the application usage and power behind each platform is completely different. Intel say that multiple configurations of the NUC will be offered, ranging from complete systems to just the motherboard. Up to 17W processors can be dropped into the system, supporting mobile Sandy Bridge chips right now, and that it will come with three USB 2.0 ports, two HDMI outputs, dual so-DIMM slots, mini PCIe, and WiFi/Bluetooth.
If you're a little disappointed not to see USB 3.0, an updated version with support for the superspeed transfer port will come later that will also add Thunderbolt into the mix. There may also be a cheaper, Celeron-based version in the future, and Intel was demoing an Ivy Bridge variant at Computex, even if it did hit peak temperatures of 79c. Right now, Intel is putting the finishing touches on the case and cooling, something it's working on with third-party case makers.