Intel's 5GHz Core i7-8086K, low power displays wow at Computex reveals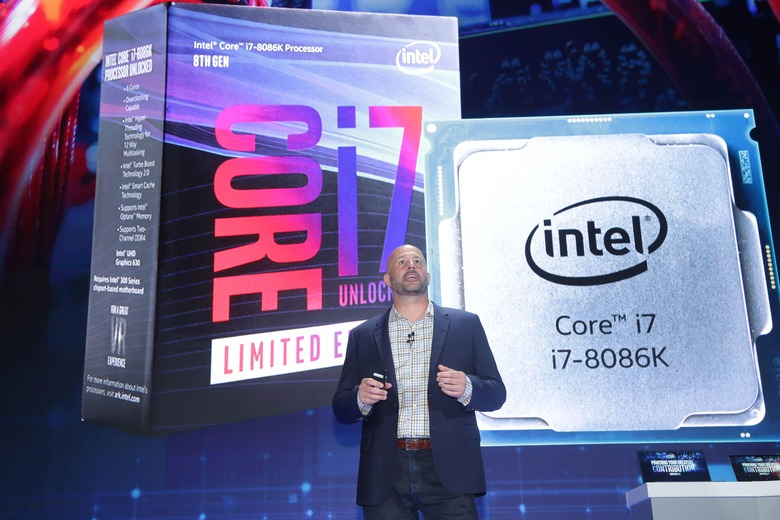 This year marks Intel's 50th anniversary, and in celebration, the company showed up to Computex 2018 with a lot of announcements to make. While these announcements encompass a lot of different technologies, they all revolve one product that's been core to Intel's business for many decades: the PC. Specifically, Intel is looking to improve the PC as the platform that people turn to when they need to roll up their sleeves and get some work done.
The first area Intel is focusing on is, of course, performance. We would naturally expect Intel to announce new processors at a gathering like Computex, and that's exactly what it did. Intel's Gregory Bryant announced that Whiskey Lake U-series and Amber Lake Y-series processors will begin to make their way to "more than 140 new laptops and 2 in 1s" from its OEM partners this fall, and we'll see new desktop releases in the X-series and Core S-series by the end of the year.
Bryant also announced a special CPU that's being released to celebrate the 40th anniversary of the company's x86 architecture. The Core i7-8086K will be the first Intel-crafted CPU supporting 5GHz turbo frequency. Those who were around to see Intel launch its x86 microprocessor business will know that this new CPU's name is a call out to the original Intel 8086. Sales for this limited edition CPU will open up on June 8, but you can also enter to win one in a sweepstakes that Intel is hosting.
Battery life will also be a big focus for Intel moving forward, and in its quest to achieve all-day battery, it's rolling out new low power display technology. This tech will feature in one watt panels developed by Sharp and Innolux, with Intel saying it has the potential to "cut LCD power consumption by half." The end result of these efforts are devices that can potentially last as long as 28 hours on a single charge, but there's no word on when we might see this tech debut in consumer products.
Bryant also briefly touched on Intel's plans for 5G, noting that it has partnered with Sprint to sell 5G-connected PCs in-store. The company also plans to bring artificial intelligence to PCs in a big way through its AI on PC Developer Program. In all, it sounds like PC will be a major focus for Intel as we move through the rest of 2018 and into 2019, and that's definitely exciting to see.