Intel's 15nm Atom plans previewed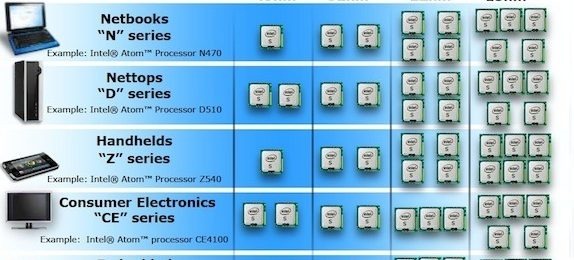 Intel's tiny chip ambitions have been revealed, thanks to a roadmap forecast slide the company prepared for IDF 2010 this past week.  According to the image, Intel are looking ahead to CPUs as small as 15nm; it's unclear from the slide, though, whether the number of processor icons indicate product ranges, number of cores or just general potency.
If cores, that could fit in with Intel's previous moves to make significantly power-reactive SoCs that can better scale according to the tasks they're faced with.  While it might seem strange for a smartphone chip – such as the Z series – to have more cores than the N series, Intel's power management technology would allow it to selectively turn off unneeded cores in a more granular way, thus making for a more frugal SoC.
Of course, there's a big difference between putting together a slick slide and actually manufacturing chips, and it's telling that Intel has avoided putting any sort of definitive timescale onto their chart.
[via CNET]