Intel X25-M SSD priced, released & tested: Expensive but Impressive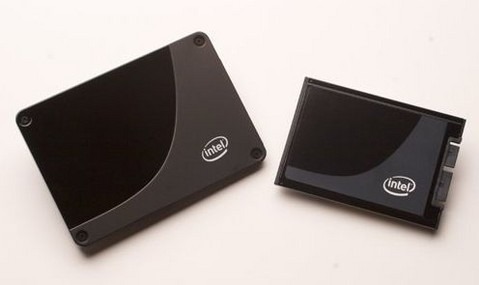 Intel's new consumer SSDs – the X18-M and X25-M – have been officially announced, with pricing confirmed for the 80GB model.  Based on MLC NAND flash chips, the two drives differ in form factor (1.8-inch and 2.5-inch), with pricing from $595 (for system builders).  The 2.5-inch SSD is at the heart of HP's EliteBook 6930p battery-busting 24hr laptop – with HP claiming the X25-M improves battery life by 7-percent over traditional drives – and has also been on the Laptop Mag and PC Perspective test benches.
Both sites come away impressed with the the X25-M, with the drive's performance flagged up for particular praise.  Access, write and seek times are all in line with Intel's own claims, and the drive is credited with excellent multitasking performance and speedy application starts.  Only the high price comes in for serious criticism, together with the fact that, as it stands, Intel will not be selling the SSDs to individual customers.
The 80GB SSDs are available now, with products based upon them expected in the next few weeks.  A 160GB version will begin sampling in Q4 2008.  As for the enterprise-level X25-E Extreme SATA Solid-State Drive, that is expected within the next 90 days.