Intel WiDi adds HDCP protected Blu-ray streaming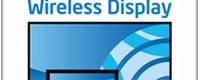 Intel's WiDi technology is an interesting feature on some notebooks that allows the user to wirelessly shoot video from the computer over to another screen in range of the wireless transmission. WiDi stands for wireless display, and it supports 1080p video when used with machines that are running the new second-generation Core processors. Intel has announced that it has now updated WiDi to a later version, and the new version has some cool features that weren't available before.
The release notes for the new 2.1 update tells what the new added features are. Version 2.1 now has a unified 32-bit/64-bit installer using a single file. The new version will stream up to 1080p resolution video with hardware based H.264 encoding. The service now supports 802.11n PAN at 2.4GHz and 5GHz. Intel HD Graphics 3000 based hardware encoding is supported with updated graphics drivers. Verizon 2.1 also brings the ability to view HDCP 2.0 content with support for DVD, Blu-ray and some online protected content.
Other new features include 6-channel 16-bit/48 kHz LPCM sound output with playback application support. The latency in the new version has dropped to under 300ms as well. WiDi will also now detect ISDB-T and ISDB-S TV Tuners. You can download the update directly from Intel for WiDi right now and enjoy shooting your wireless content over to a TV or bigger computer screen.
[via Intel]