Intel whips out notebook with multiple OLED screens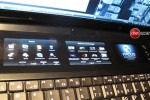 Intel is showing off a notebook concept under the code name Tangent Bay at IDF that is very cool. The machine has three OLED screens right above the keyboard that are all touch sensitive. The screens can be used to organize information and presumably launch apps.
Music files can be moved between the OLED screens using a finger swipe and video can be dragged to the main display as well if desired. It sounds like nothing more than the same old extended desktop trick grafted to a notebook with three small displays built-in.
I guess it is still pretty cool looking, from the images the laptop looks larger to accommodate the three new screens. The main thing I wonder about the prototype is how much the three small OLEDs will add in cost to a machine should the concept ever hit production.