Intel Ultrabook comparison, then and now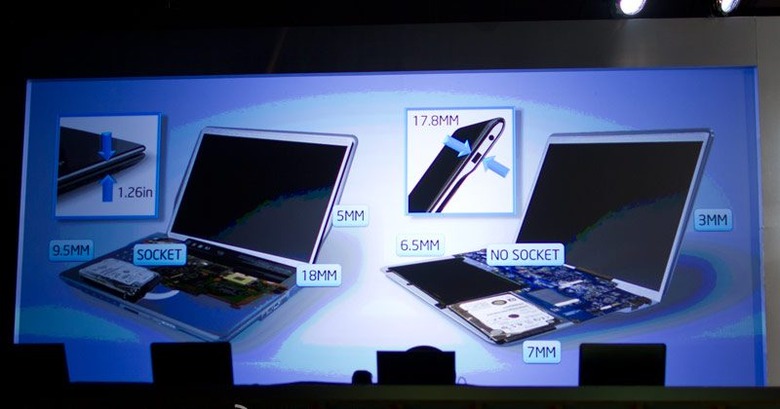 Intel seemed most impressed at how compact the new Ultrabooks are compared to the previous models. Closed, the original Ultrabook was 1.26 inches thick, whereas the new generation will only come out to 17.8 millimeters. The barebones/transparent view below shows how the all the hardware has slimmed down.
The solid state drive is thinner, the LED backlit display is 2 millimeters more compact, and they've managed to integrate the CPU straight into the board to shave off excess thickness. Previously, Ultrabook were only available at 13", now they plan on expanding to 14" and 15" models for the future. Again, we should start to see mass production of these in April.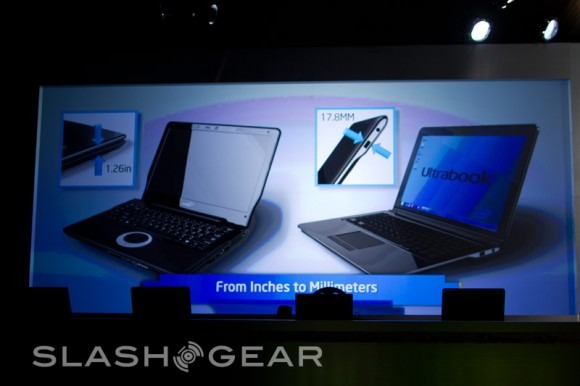 Intel is setting manufacturers up to compete with Apple's MacBook Air, and so far with flying colors. They want the average person to enjoy the Ultrabook experience. For this reason, they will make it economically feasible to purchase one without completely emptying your savings. The first generation was going for $999, and they specifically said it would be cheaper. However, they didn't give an exact price – lets hope it's in the $500 range.