Intel to unveil next generation of Thunderbolt at Computex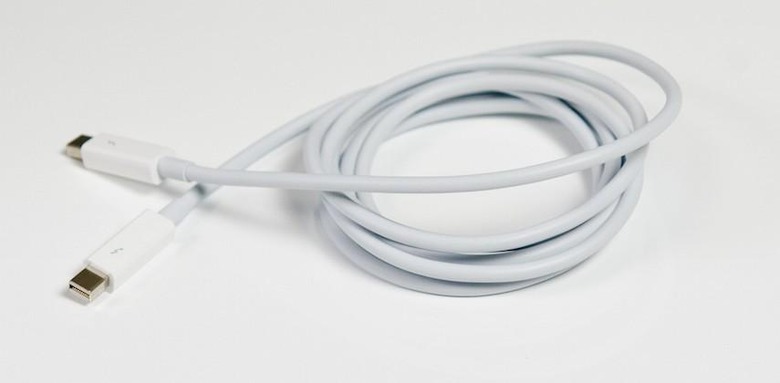 It looks the next iteration of Thunderbolt will soon be coming down the pipeline, as Intel has teased that it will be making an announcement about the connector type at a press event during the Computex event in Taipei. While Thunderbolt is most associated with Apple, appearing on the side of all MacBooks, the computer-maker decided to use the smaller USB-C port on its new Retina MacBook. But Intel is likely eager to show the next update to Thunderbolt, and reinforce that is has plenty of uses beyond Apple.
Thunderbolt is best suited for, and most used to connect devices like external hard drives and monitors to computers — both PCs and Macs. The technology allows for data transfer speeds faster than USB, with Thunderbolt version 2.0 offering up to 20Mbps as compared to USB 3.1's 10Mbps.
Intel isn't offering many other details about the Thunderbolt announcement at Computex, but has said they are researching ways to get transfer speeds as high 50Gbps one day with the help of silicon photonics technology. However, the company reminds that Thunderbolt's current speeds are more than suitable for today's uses.
It seems likely that the next big Thunderbolt speed advancement will come as the presence of 4K video gives way to 8K and other data-heavy formats. Going forward, USB-C looks to remain the greatest rival to Thunderbolt, with both ends of a cable being the same and the ability to charge laptops as well as connect peripherals. It's probably a safe bet though that the Computex event will see the debut of several new products using Thunderbolt, so don't expect the connector to go away anytime soon.
SOURCE Computer World