Intel tip Jasper Forest embedded Xeon CPU ahead of IDF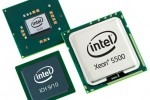 Intel have been teasing with some pre-show chip information in advance of their IDF (Intel Developer Forum) kicking off September 22nd.  As well as talking up their manufacturing expertise – Intel describe themselves as "by far the most advance of any semiconductor manufacturer in the world" – they're also tipping their upcoming Jasper Forest embedded processor platform.
Jasper Forest will be built on 45nm processes but use 32nm technology for 27W system power savings, together with incorporating the I/O hub onto the processor.  That will allow for PCI Express 2.0 ports, RAID 5 and 6 support and Intel 3420 chipset connectivity directly from the CPU.  Intended for use in embedded, communications and storage equipment – such as routers, VoIP systems, NAS and wireless infrastructure systems – Jasper Forest offers Nehalem-based Xeon 5500-series processor performance but in a more economical, cooler package.
The first hardware partners using Jasper Forest will be revealed at the IDF, together with further detail on how Intel's 32nm CPU processes have been certified.  CPU wafers for the company's Westmere platform are expected to go into revenue production in Q4 2009; that will be accompanied by "smarter System on Chip" production.