Intel Shows Off Touchscreen Ultrabook Reference Design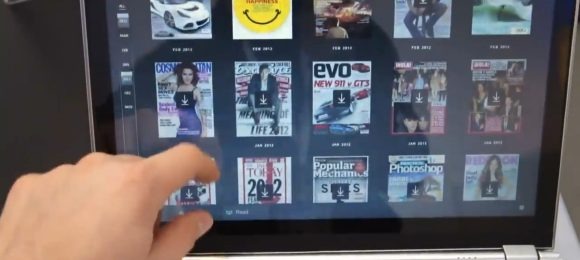 The Asus Transformer Prime is the go-to tablet is you want to combine a touchscreen with a detachable keyboard dock, but what about the same concept running on Intel hardware and Windows software? Turns out that Intel are demoing that exact notion at CeBIT 2012 with an Ivy Bridge Ultrabook touchscreen reference design.
Engadget went hands-on with the device, as did Ultrabook News and gleaned some tidbits during the brief encounter. Hardwise wise, this particular reference Ultrabook has a 13.3-inch screen with a 1600x900 resolution, and of course, touch capabilities. The processor is said to be of the Ivy Bridge variety, clocked at 1.5Ghz, with other specs remaining a mystery, but the overall design and aesthetic is very clearly meant to mirror other Ultrabooks. The thickness of the device is similar, as well as including a pair of USB 3.0 ports, SIM and SD card slots, and an HDMI port.
In terms of touch capabilities, the display is said to support up to 10 finger multitouch, the overall touch experience is supposedly similar to what you would get from today's tablets. Pinch-to-zoom and swiping gestures were all supported, particularly in the installed Zinio app which allows you to swipe through magazine covers, then tap to select the one you want to view. Touch functionality also seems to work without any issues within Windows itself.
Overall there doesn't seem to be any disadvantage to including the technology in upcoming Ultrabooks, although it remains to be seen what it would do to overall costs. If you don't want to use the touchscreen, you still have the traditional mouse and keyboard input options. We can't help but wonder if attempting a product similar to the Asus Transformer Prime but with Intel hardware and Windows 8 would present a more versatile and useful solution.