Intel roadmap shows Core i 3000 CPUs inbound for Q2 2012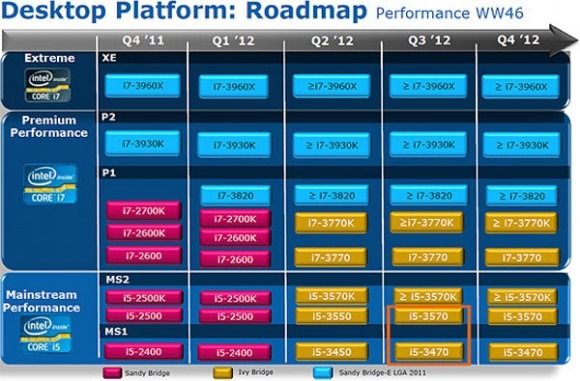 Intel is set to toss some new processors out into the market early in 2012. A new roadmap leak has shown that in Q2 2012 Intel will launch the Core i 3000 series processors. The specific month pegged for the launch is April. Previously the chips had been pegged for a March or April launch. The Core i 3000 family of processors will be the first to hit the market using 22nm transistors.
There is no word on why March was taken off the table for launching the chips. The roadmap shows several of the Ivy Bridge i 3000 family parts coming in Q2 including the i7-3770K and 3770 in the performance segment. In Q2, the mainstream performance segments will be the i5-3570K, 3550, and 3450 parts along with the 3570 and 3470 in Q3.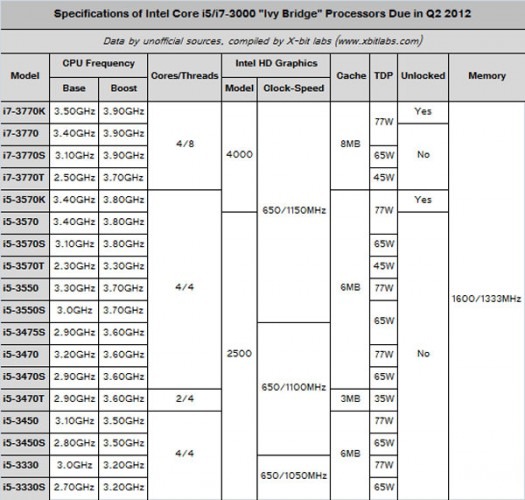 A full chart showing the specs for the Ivy Bridge parts was also shown. The fastest part on the chart is the i7-3770K clocking in at 3.5GHz and 3.9GHz on boost with four cores. The slowest part is the i5-3330S with 2.7GHz base and 3.2GHz on boost. There are bunches of quad and dual core parts in between. These chips are said to inherit a modified Sandy Bridge micro-architecture with a bunch of improvements.
[via Xbitlabs]