Intel RealSense Depth Camera SR305 cuts costs for 3D scanning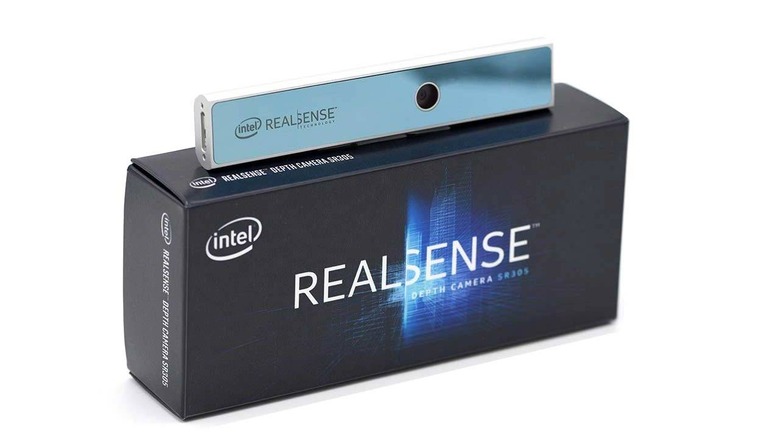 Intel has a new standalone camera module made for 3D sensing and mapping, and they want to get it into the hands of developers, academics and device prototypers as fast as possible. They've cut down on all the non-essential elements in previous models of similar devices, and here brought JUST the basics for several key 3D-sensing and mapping applications.
This device is made to allow users to "get their feet wet" with face analytics and tracking, scanning and mapping, scene segmentation, hand tracking, finger tracking, and augmented reality. Below you'll see a video from Intel showing the 3D sensing technology this unit uses at its most basic.
The code used to build the SR305 is the same as the rest of the Intel RealSense Devices. Intel made clear in their documents for this device that the code was used in a way that allows users to upgrade to more robust and feature-packed devices with relative ease. The camera works with Intel RealSense SDK2.0 (software development kit) to allow work with "a wide variety of operating systems and wrappers."
This camera was made to capture 640 x480 depth resolution at 60 frames per second at short range. The recommended (quality) depth imaging for this device (at optimal distance) is one meter – that's a great place to start!
The camera is self-contained, and all depth calculations are performed on the onboard ASIC. You'll find additional details about the hardware in the gallery above. The box includes the camera module, mounting bracket, USB cord, and tripod.
This device will be made available from the Intel RealSense products page for preorder for $79. Users can attain this device without any sort of special qualifications or sign-up of any sort. See the timeline below for additional recent news on Intel RealSense and the hardware and software therein!