Intel readying for rise of Android-based netbooks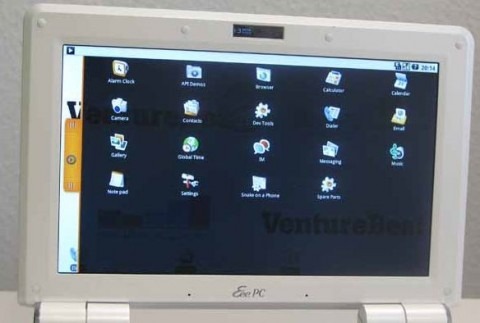 Intel is expecting a flurry of Android-based netbooks in late 2009 and throughout 2010, and is preparing to support manufacturers with suitable chipset hardware.  That's according to VentureBeat's "reliable source", who suggests that the chipmaker – responsible for the Intel Atom N270 processor found in the vast majority of netbooks on the market today – is betting that Google's open-source mobile platform will find a niche among what are usually Ubuntu or Windows XP machines.
While details are, at this point, scarce – for instance what chipset changes, if any, Intel is planning on making, and whether it's basing its predictions on third-party intent or not – Android has previously been shown to run with few problems on netbook hardware.  Since it's in effect just another Linux distribution, albeit one tailored for mobile devices and to-date only seen on store shelves in smartphones such as the T-Mobile G1, hardware changes would be minimal.
What would be different is the integration of mobile connectivity and always-on internet access, something becoming more prevalent in the netbook segment as more models are offered with integrated 3G either as standard or as an option.  Android could present a relatively easy way for manufacturers to offer the mobile apps users know from their cellphones in an ultraportable form-factor.  The Android Market, with a growing range of software to download, would also be a draw. 
[Thanks Tom!]