Intel Pine Trail next-gen Atoms detailed: 20% lower power consumption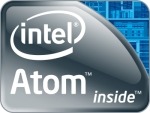 Further hardware details regarding Intel's imminent Pine Trail platform have emerged, suggesting that the next-gen Atom chips will be smaller, more efficient and cheaper for the company to produce than the existing processors.  Set to debut in Q1 2010, according to Fudzilla the Pine Trail-M mobile chips will deliver a roughly 20-percent reduction in power consumption, when compared with the current Atom CPUs (measured in Mobile Mark 05).
The Pine Trail-M processors will also have a 64-percent smaller footprint, thanks to the shift from three separate chips on-die (CPU, Northbridge and Southbridge) to just two (CPU and Southbridge) and new manufacturing processes.  A four-layer PCB is used, which also helps to lower manufacturing costs.  Fudzilla are predicting that netbooks using Pine Trail-M chips will be roughly the same price as existing-gen models, rather than cheaper, with the lower production costs offsetting the higher specifications.