Intel Obsidian Tizen skin leaks: Android ambitions tipped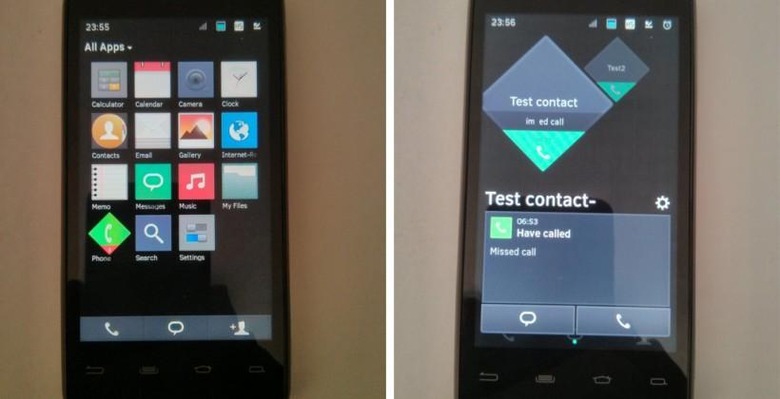 Intel has been cooking up its own smartphone interface, it's reported, intending to reskin Tizen and potentially Android with a new theme codenamed Obsidian. The new software will launch first on an Intel reference device known as "Josephine" sources tell Ars Technica, with a pared-back aesthetic using simple, flat iconography and a notification system new to smartphones, involving twisting the app icons.
So, if you get a new email, the mail app icon rotates 45-degrees, with a red "new message" notification appearing the lower corner. There's also room for a number to show how many new items there are to be reviewed.
As we've seen in other Tizen implementations, there's plenty of swiping going on through the OS. Swiping across from the app screen pulls up the contacts list, for instance. Obsidian also uses a row of softkeys – three of them – running along the bottom of the display, currently for phone, messaging, and adding a contact.
A "peek panel" of pop-up options – such as toggles for connectivity like WiFi, or a clock – can also be called up. The contacts list breaks down into diamond-themed buttons for triggering calls and messages.
According to the source, Obsidian is intended to run on top of Tizen 2.0, though Intel's development team is still apparently waiting on getting the latest OS version so that it can continue work on it. Exactly when that means we could see Obsidian show up in the wild is unclear; Samsung, for instance, has previously committed to an August or September release for its first Tizen device.