Intel launches Xeon E5-2600 server chips for cloud computing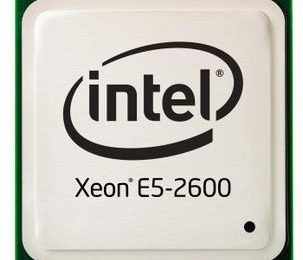 Intel has launched its Xeon E5-2600 server chips, which are designed to tackle web-based cloud computing. This market is estimated to have an annual growth of 33 percent through 2015 thanks to the proliferation of mobile devices, such as smartphones and tablets, for accessing the internet or otherwise requiring internet connectivity for cloud-based services.
Featuring Intel's Sandy Bridge-E architecture, the Xeon E5-2600 family can handle a full eight cores per processor and as much as 768GB of system memory. The additional cores along with a smaller 32nm architecture, as opposed to 45nm, will make the processor 80 percent faster and 50 percent more efficient. It will also be the first server processor family to integrate PCI Express 3.0 support and I/O controller directly into the microprocessor.
Intel aims to address the growing server needs of a more connected world, forecasting at least 3 billion connected users with 15 billion connected devices by 2015. The new server chips have already begun shipping to manufacturers, including HP, Dell, IBM, Oracle, and Cisco, which are all expected to announce Xeon-based server platforms today.
Rival AMD recently acquired startup SeaMicro for $334 million to enter this same enterprise server market aimed at cloud computing. The move was seen as a blow to Intel, which had appeared to have formed a tight relationship with SeaMicro. However, VP and general manager of Intel's Datacenter and Connected Systems Group, Diane Bryant, dismissed that notion today, saying that Intel was "not impressed" with SeaMicro and had declined to purchase the company.
[via ZDNet]