Intel Iris graphics detailed for 4th-Gen Core "Haswell" chips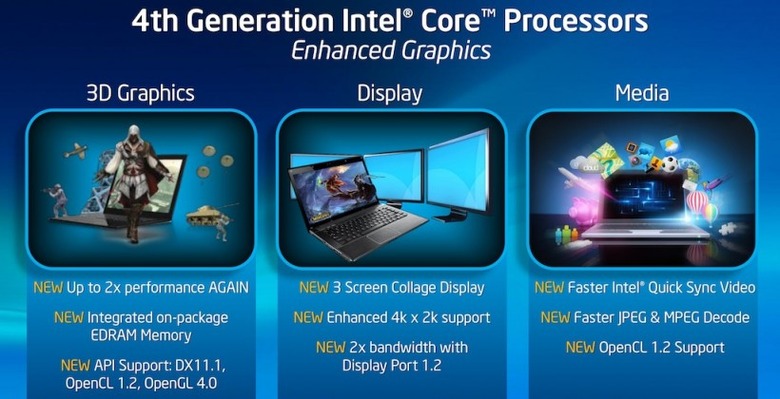 Intel's 4th-gen Core processors will also debut a brand new Iris graphics system, with the chip company splitting its new line-up into multiple tiers for ultrabooks, thin-and-lights, and mainstream PCs. Ultrabooks powered by the most frugal of Intel's 4th-generation Haswell chips, the U-Series, will get Intel HD, HD Graphics 4600, or HD Graphics 5000, but those machines that can stand a little extra power consumption will get either Iris (for thin-and-lights) or Iris Pro (for mainstream) for at least a doubling in 3D processing performance.
Ultrabooks, where minimal power draw is still king, will get a range of 15W U-Series processors for prolonging runtimes. The onboard HD, HD 4600, and HD 5000 GPUs won't be labeled Iris, but they will offer a bump over the HD 4000 graphics of the 3rd-gen range, with Intel claiming improvements across the board in the usual 3D graphics testing. Power consumption will also drop, thanks to 15W TDP chips where previously 17W was pretty much the lower limit.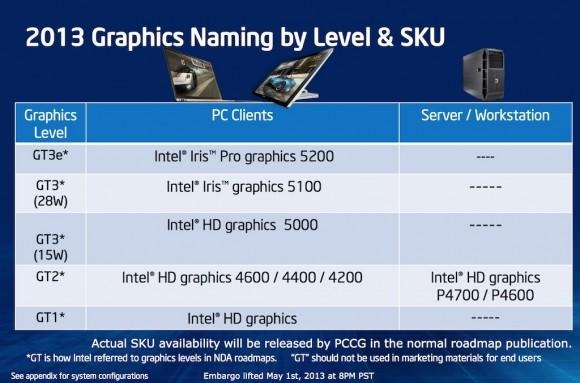 It's when you get to Iris and Iris Pro that things get really interesting, however. They'll need at least 28W TDP to shine, but given that can up to double 3D graphics performance with the Iris GPU onboard.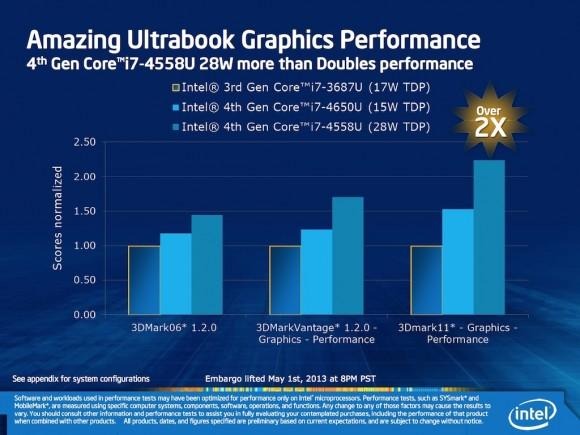 Iris Pro sees the biggest leap, however. Intel has multiple ranges of Haswell processors in mind – to suit desktops, mainstream laptops, and various other iterations – but roughly the 65W TDP 4th-gen chips are good for up to twice the performance of their 77W TDP 3rd-gen counterparts. The difference gets even more pronounced when you slot in Intel's 4th-gen 84W TDP processors, which deliver up to a 3x performance improvement over the last generation.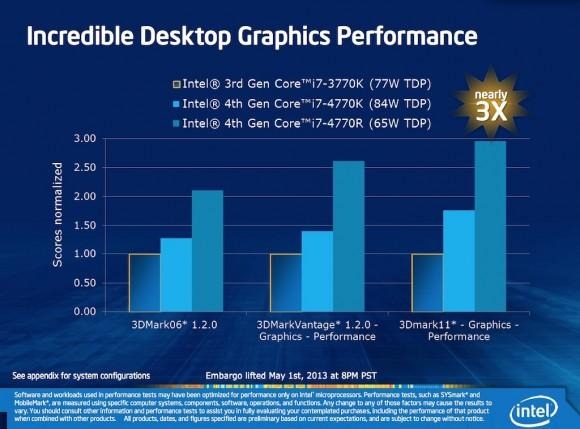 The GPUs each support OpenGL 4, DirectX 11.1, and OpenCL 1.2, along with enhanced 4K video support and the Display Port 1.2 standard for double the bandwidth. There's also "Collage Display" for easier multi-screen setups, spreading the desktop across up to three panels. Haswell 4th-gen chips are expected to arrive in PCs later this year.
[via AnandTech]