Intel Haswell Chips Claimed To Offer 50% Longer Battery Life

We're starting to see new computers running Intel's Haswell pop up from the woodwork, and while we know that these fourth-generation chips offer a performance boost from previous generations, Intel claims that they also offer a whopping 50% increase in battery life, allowing users to surf longer without plugging in.
Intel's Architecture Group Vice President, Rani Borkar, said that laptops packing in Haswell chips should be able to get 50% more battery life than the current third-generation Ivy Bridge offerings. New laptops should also be able to last up to 20 times longer in standby mode without affecting performance whatsoever.
Borkar says that the new Haswell chips were designed with laptops and tablets in mind, specifically, so the main focus was on lowering power consumption across the board, while keeping the chips fast. Furthermore, Haswell is said to be double the graphics performance of Ivy Bridge on laptops, and triple the performance for desktops.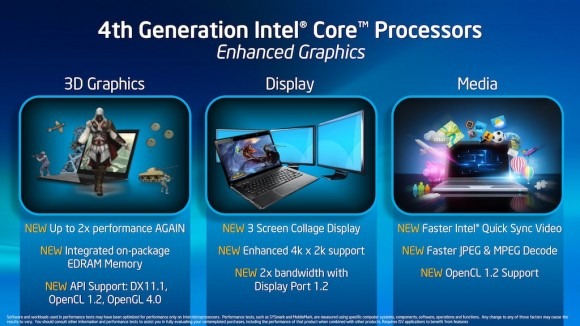 Of course, we're staying cautious until we can get some solid benchmarks and test results in our hands proving these claims, but we really hope it's true, as laptop battery life is one of those things that plagues each and every one of us. Intel's claims mean that a current laptop getting six hours of battery life will be able to get nine hours using Haswell, which sounds really lovely.
However, we'll see if Haswell can make an impact in the laptop and desktop market, or if PC sales will continue to slump until there's nothing left but tablets. We don't think that will happen for a long while, if ever, but the PC industry needs to do something to get back on track, and Intel is attempting to do their part at least.
SOURCE: Computerworld