Intel has a $100m plan to bring the IoT and robots to the high street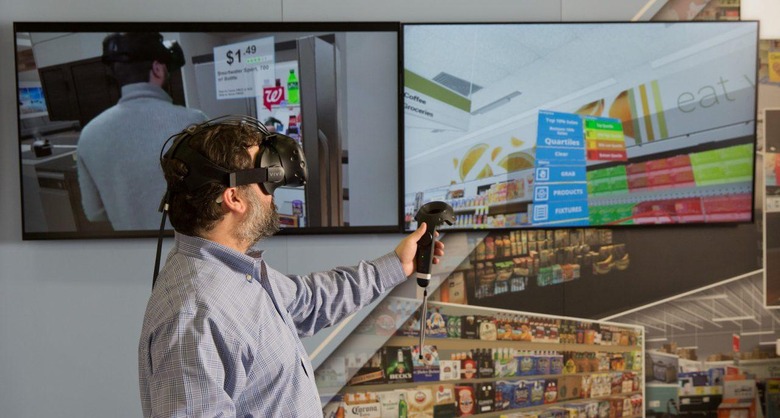 Shopping is about to get seriously high-tech, with Intel launching its Responsive Retail Platform, an Internet of Things upgrade for stores that will track shoppers as much as stock. Announced today, the Intel RRP is effectively a combination of a common language for various sensors intended for use in retail environments, a new tracking device, and a cloud-gateway combination that, altogether, promise to make brick & mortar stores as clever as their pattern-calculating online counterparts. Along the way, it might also mean more robots in the aisles.
While online shopping has been at the forefront of Big Data-style pattern crunching, with retailers like Amazon building vast and comprehensive profiles of each customer so as to make better recommendations and encourage more sales, physical stores have been slower to upgrade. That's something Intel plans to pump $100m into over the next five years, CEO Brian Krzanich said today.
Intel RRP is built around a new Responsive Retail Sensor, a multi-sensor product with an RFID reader and antenna specially designed for dense retail environments. It's intended to record from numerous data points across the store; eventually, Intel says, it'll expand to include video gathering along with WiFi and Bluetooth LE connectivity. It's based on an Intel Atom processor.
Each of those sensors communicates with the RRP Gateway. That's currently built by HP, which has two such systems, each hooking up to the Responsive Retail Sensors over ethernet and using Intel's Core i7 and Xeon processors. Data is passed to the cloud via wired, WiFi, or 3G/LTE networks; some local processing of real-time analytics is supported, but for everything else there's an open-source analytics platform-as-a-service (PaaS) that can be run in AWS, Azure, or similar.
It's that which does the interesting work. For instance, with a combination of RFID, video, radio, and other sensors, Intel's new platform could keep track of stock in real-time, spotting incorrectly-placed items on shelves, and tallying up what's on the floor and what's in the back room. Items taken into changing rooms but not subsequently making it to the checkout could be monitored, both to help prevent theft and to figure out what isn't being loved enough to make a sale.
The upgraded aisles, meanwhile, could be patrolled by stock-checking robots like Simbe Robotics' Tally. Resembling a price-check scanner atop a Roomba, the robot is designed to take on some of the more mundane tasks that human staff would otherwise need to. That includes auditing shelves for out-of-stock items and low stock items, looking out for misplaced items, and spotting any pricing errors.
Tally can be active during store hours, and in combination with other sensors opens the door to even more precise restocking schedules.
Intel isn't the only tech company looking to revolutionize old-school retail, of course. Last month, Amazon revealed plans to open a physical store in 2017 that, with a combination of cameras and other sensors, would do away completely with the traditional checkout process. Shoppers at the store, dubbed Amazon Go, would check in with their Amazon account and then be observed as they grabbed items from the shelves; simply walking out at the end would be enough to trigger payment.