Intel goes tiger dancing in bizarre Ultrabook promo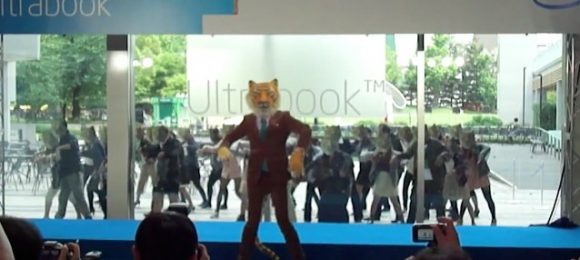 Intel's ultrabook marketing strategy has taken a turn for the bizarre, with the chip company looking to a dancing moon tiger – and, at a recent Japanese press event, a group of 100 backup dancers – to push the MacBook Air rivals. While in North America and Europe, Intel has generally been focusing on how thin ultrabooks are, without necessarily sacrificing power, in Japan a somewhat more unusual campaign has rolled out. Check out the videos after the cut.
The regular TV advert introduces a slightly camp dancing tiger who proceeds to strut his stuff to an insanely catchy tune while, coincidentally it seems, on the moon. He's watched by a somewhat bemused astronaut.
Intel Tiger Ultrabook advert:
Intel seemingly decided that what works to impress the brave men and women of space exploration would have no trouble doing the same to the Japanese media, hence tiger man's reappearance at an ultrabook event earlier this month. This time, however, he was joined by mask-wearing backup dancers both inside and outside the venue.
Intel Tiger Ultrabook dancer event:
Never before has the Intel jingle bracketed something quite so bizarre, though it's definitely more memorable than "oh look, another computer that looks a bit like a MacBook Air, but that runs Windows."
[via Twitter]