Intel D425 & D525 Atom Processors Boost Performance for Faster Storage Processing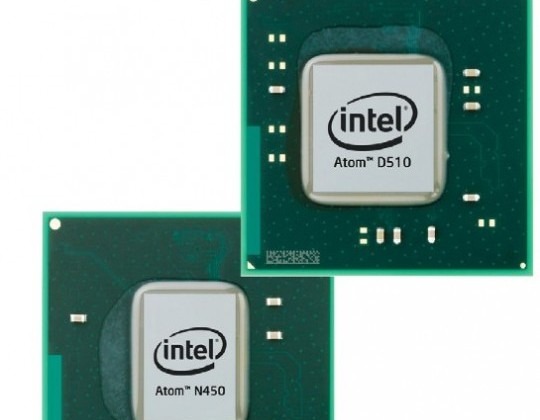 Back in March, we reported that Intel was moving forward into the "always-on" category of devices, and expanding their Intel Atom processors for devices like RAID arrays and NAS. Well, that was a long time ago, especially in the tech industry. So it goes as no surprise that Intel has just announced that they've got two new processors on deck and ready to get the job done. Welcome the Intel D425 and D525 to the Atom lineage.
These two new Intel Atom processors have been optimized for storage, as well as faster processing speeds, as well as an upcoming memory technology called DDR3 SODIMM. As we mentioned back in March, there are already plenty of manufacturers out there jumping on board, with LaCie, LG Electronics, NETGEAR, ONAP, Super Micro, and Synology still making full use of the old, and new processors.
Details wise, the processors are clocked at 1.8GHz. The D425 is a single core, while the D525 is of the dual-core variety. As we mentioned above, they are meant to boost the overall performance, all at higher CPU frequencies for faster storage processing. They're also going to support the new memory technology, double-data-rate three small outline dual in-line memory modules, or DDR3 SODIMM. Furthermore, both processors will be teamed up with a new I/O controller, called the 82801 IR I/O. It sounds like the D425 and D525 are a great addition to the already strong family, which started with the D410 and D510 processors, back in March. Full press release below.
Press Release
SANTA CLARA, Calif., Aug. 16, 2010 – Backed by industry support of the Intel® Atom™ processor optimized for networked storage appliances for the home and small business, Intel Corporation has added two new Intel Atom processors to further boost the company's focus on the platform.
Since Intel's initial foray in this area in March, leading storage manufacturers, including Acer*, Cisco*, LaCie*, LG Electronics*, NETGEAR*, QNAP*, Super Micro*, Synology* and Thecus* have announced products based on the energy-efficient Intel Atom processor platform.
Broadening its offerings for consumer and small business storage appliances, Intel is introducing the 1.8GHz Intel Atom processor D425 single-core and D525 dual-core. These processors boost performance with higher CPU frequencies for faster storage processing and will support the new memory technology, double-data-rate three small outline dual in-line memory modules, also known as DDR3 SODIMM.
The new Intel Atom processors (D425 and D525) are paired with the Intel® 82801 IR I/O Controller that delivers the input/output (I/O) connectivity to satisfy the growing throughput demands of leading storage vendors. Both additions to the storage platform offer the flexibility to support Microsoft Windows Home Server* and open source Linux operating systems.
"Networked storage appliances based on the Intel Atom processor platform enable consumers and businesses to organize, manage, protect and share documents, photos, videos and music throughout the home or office," said Dinesh Rao, product line manager, Intel Storage Group. "The versatile Atom processor, which is at the heart of a growing variety of small, innovative, Internet-connected devices, makes it possible for storage vendors to develop low-power appliances that can innocuously sit on a desk or shelf while keeping digital content safe and available anytime, anywhere."
Since March, storage manufacturers have adopted the Intel Atom processor D410 single-core and D510 dual-core, each paired with the Intel 82801 IR I/O Controller, to power these affordable network-attached storage (NAS) appliances for the home and small business. Storage vendor products featuring the Intel Atom processor-based platform are currently available and additional devices will be released later this year.
"LaCie recently introduced two storage servers that leverage Intel's Atom processor technology to deliver enterprise-level storage capabilities to small and medium businesses that were previously only experienced in large, corporate environments," said Erwan Girard, LaCie Solutions business unit manager. "The new servers include the perfect mix of corporate-grade features and intuitive management software, enclosed in an award-winning 5big design for your desktop, allowing these products to fit seamlessly into any business environment."
The updated Intel Atom processors for consumer and small business NAS appliances are currently shipping. Additional information is available at intel.com/go/storage.
About Intel
Intel (NASDAQ: INTC), the world leader in silicon innovation, develops technologies, products and initiatives to continually advance how people work and live. Additional information about Intel is available at www.intel.com/pressroom and blogs.intel.com.