Intel Core i9 six-core brings gaming CPU to notebooks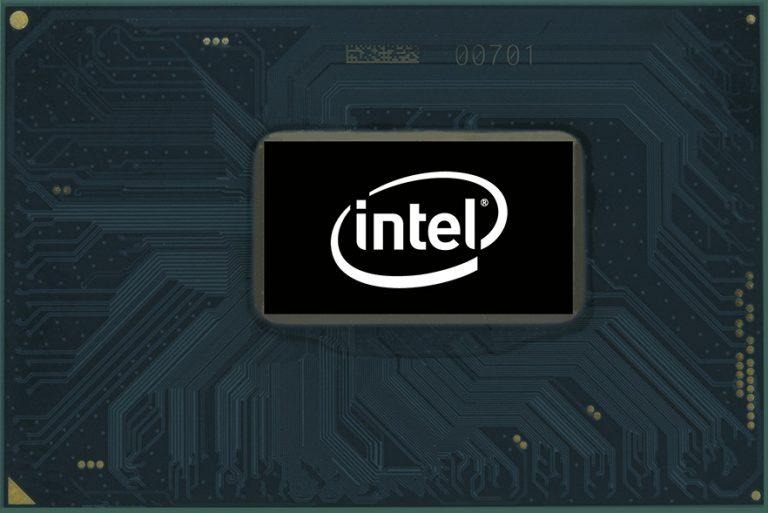 Intel announced a new batch of 8th-generation Core CPUs for laptops today, with the star of the show being the new Core i9-8950HK. This CPU is notable for a lot of reasons, but perhaps the biggest is the fact that this is the first six-core processor Intel has made for laptops. Obviously, we're probably only going to see this CPU in top-of-the-line notebooks, which means that most people probably won't experience its benefits.
Still, for those who need that kind of power – enthusiast gamers or content creators who use a lot of intensive applications, for instance – the advantages to the i9-8950HK will probably be appreciated. In addition to its six cores, this new processor also boasts 12 threads, and though its base clock speed comes in at 2.9GHz, it's also fully unlocked. This means it should be fairly easy to overclock it, with single-core TurboBoost speeds topping out at 4.8GHz.

When compared to a PC using a 7th-gen Core i7, Intel found that overall performance increased by 29%. The company also saw gaming frame rates increase by 41% while playing titles like Total War: Warhammer II and PUBG, and performance while gaming, streaming, and recording increased 32%. Performance jumped up by 59% when editing 4K video on this new Core i9, which is possibly the most important statistic Intel shared today as content creators are likely going to be this CPU's main market.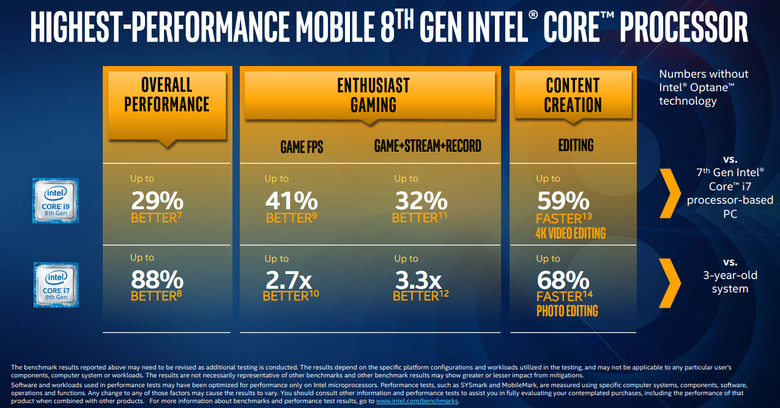 After all, while those performance metrics for streaming are interesting, the preference for most broadcasters will likely stay with desktop PCs. Some of those who take their streaming very seriously even build an entirely separate streaming rig, so perhaps that's the audience Intel is target with these test results? In any case, it's interesting that Intel chose to focus on the benefits to streaming and recording when it comes to the new i9, as that isn't typically the domain of notebooks in the first place.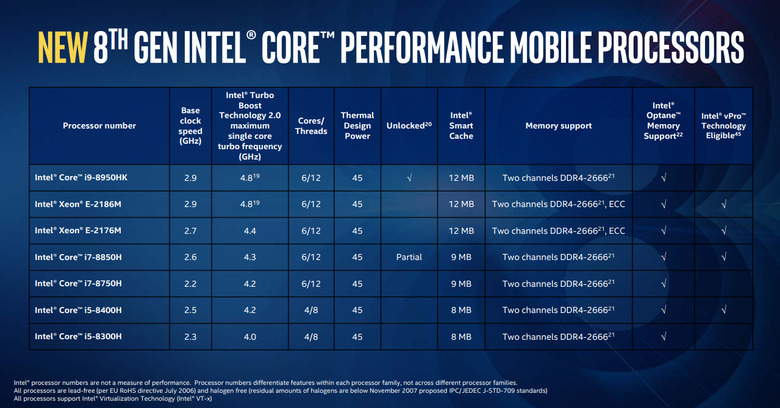 The Core i9 wasn't the only new processor Intel announced today. While it's certainly the most exciting of the bunch, we can also look forward to new 8th-gen i3, i5, i7, and Xeon processors. Some of these, such as the i7 processors in the H-series, feature the same 6 core, 12 thread set up as the i9, while the U-series will likely feature in more mainstream notebooks aimed at people who aren't looking to do anything particularly intensive.
Most of these new processors (in fact, almost all of them) will feature Intel Optane memory. Optane, as many of you probably already know, aims to accelerate hard drives that connect via SATA, in some cases providing "up to 4.7 times the game loading and 1.7 times faster media loading." These Optane-enabled processors will comprise the new Core i5+, i7+, and i9+ platform extension, so if you're looking for Optane compatibility specifically, it should be easy to find it with this new naming scheme.
Of course, the big question is the same as it ever was, and it's one of pricing. Intel, for all of the impressive stats it rolled out today, didn't talk pricing, and while we can safely assume that any laptop sporting a Core i9-8950HK will be an expensive one, it would be nice to know what kind of price range we're looking at. Hopefully those details come around the bend shortly, so stay tuned.