You have to hand it to Intel. It just doesn't let go of a dream. Despite not being able to make a big enough dent in the smartphone market, it is still soldiering on, revising its strategy again and again. While many of us thought (or hoped) that the chip maker would just focus on wearables, it's taking another stab at smartphones, phablets, and tablets. This time with a new line of mobile chips under the names of the Atom x3, Atom x5, and Atom x7.
If those numbers seem oddly familiar, it's because it somewhat reflects the Core i3, i5, and i7 naming convention, and that's no accident either. Instead of using the countless and forgettable Atom numbers that used to saturate Intel's catalog, it is now settling for a more streamlined "good, better, best" system it employs for its Core processors. That said, it will, of course, still have specific model numbers suffixed, but at least consumers will have a vague notion of what they're getting in a device. Intel is also consolidating its product lines and dividing them into three categories of value mobile devices, premium tablets and 2-in-1's, and performance desktops and laptops.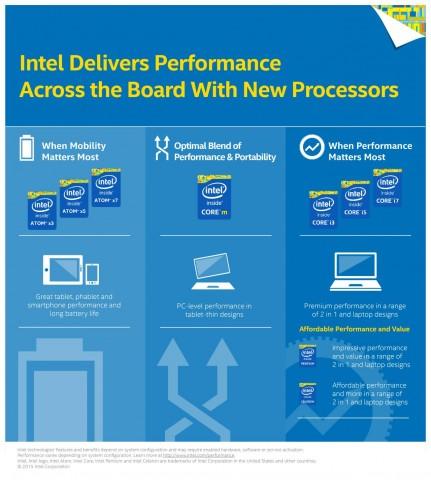 So what do these new Atoms bring to the table, aside from a new branding strategy? The Atom x3, for one, boasts of being Intel's first mobile SoC, combining the company's 64-bit Atom chips with 3G or 4G connectivity. Quite interestingly, the graphics on the x3 series are delivered by ARM-based Mali GPUs. Of the three first generation Atom x3 chips, the only the quad-core C3440 has an LTE modem. The dual-core C3130 and the quad-core C3230RK both only support 3G. The processors' clock speeds vary, naturally, starting at 1.0 GHz all the way up to 1.4GHz at the highest. Clearly, these chips are marked for entry level devices.
In comparison, both the Atom x5 and Atom x7 are designed for better performance. The two quad-core lines are based on Intel's Cherry Trail platform and immediately come with LTE support, in particular up to Cat 6 LTE. This time, the chips make use of Intel's own Gen 8 graphics technology. These two are geared more towards higher value devices, meaning next generation tablets and smaller 2-in-1 hybrids. All the new Atom processors support both Android and Windows operating systems.
Intel seems to have renewed focus and energy in its struggle to leave a mark in the mobile industry, particularly with smartphones, but only time will tell if this rebranding will help ease its pain. As before, it all boils down to whether OEMs, particularly the bigger names, will adopt the chips for their upcoming devices. And although Qualcomm seems to be taking a hit, warranted or not, for its Snapdragon 810, it isn't Intel that is taking its place. Even some of the chip maker's partners, like ASUS and MediaTek, are putting MediaTek's chips in some of their products instead.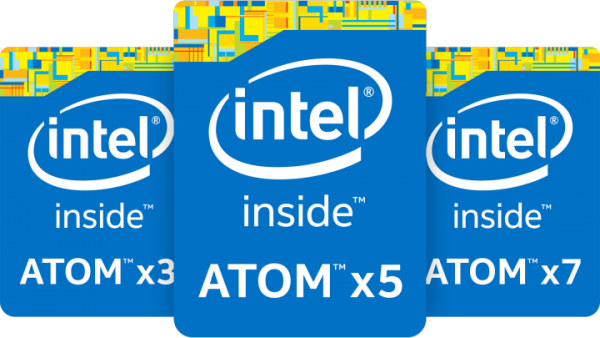 SOURCE: Intel