Intel CAP08 All-in-One system arrives at AVADirect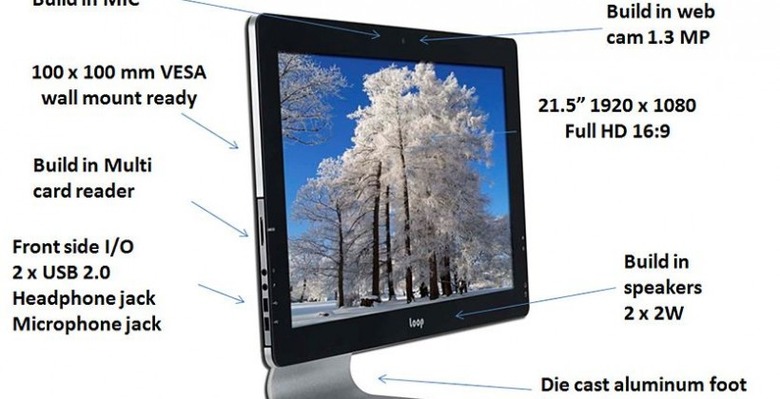 AVADirect has a new Intel-based system for all of you touchscreen fanatics out there. Today the company announced the availability of the Intel CAP08, a new all-in-one system with a 21.5-inch full HD LED LCD screen. The price isn't too bad for what you're getting in the package, but as always with AVADirect, you can swap out some of the components to make it a bit more powerful.
The system as it's offered by AVADirect comes in at $777.61, and includes a Intel Pentium G620 dual-core processor at 2.6GHz, 4GB of DDR3-1600 RAM, a Seagate Momentus 750GB HDD, Windows 7 64-bit Home Premium, a Samsung Slim Black 8x DVD Burner, and an Intel Centrino Wireless-N 1000 card. As we said, not too bad, but you can bump a lot of components up to make this all-in-one unit a bit more powerful. Alternatively, you can bring them down a little to make it even more affordable, but you'll probably want to avoid doing that if you can.
Other than the hardware, the Intel CAP08 comes with a built-in multi-card reader, 2 USB 2.0 ports, headphone and microphone jacks, built-in speakers, and a 1.3-megapixel camera. Again, you aren't working with a lot, but that's to be expected from all-in-one systems. The system also comes wall mount-ready, and we have to say that it does look pretty sleek, so despite some of its shortcomings, at least it has looks going for it.
Aside from being able to upgrade the included hardware, you can also choose to add new equipment. Additions include Bluetooth modules, external TV tuners, routers and wireless access points, mice, productivity and antivirus software, and external storage devices. You've got a ton of options with the Intel CAP08, so even though it's a little underwhelming at first, that can be easily changed if you're willing to shell out some additional cash. You could potentially turn this all-in-one system into quite the beast, so if you're interested, you can swap out components to your heart's desire at AVADirect's website.