Intel Atom D525 1.8GHz CPU tipped for Q2 2010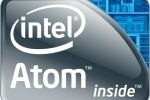 Intel's Atom plans continue, with the company apparently preparing to launch a new dual-core desktop processor.  According to Fudzilla, the Atom D525 is a dual-core 1.8GHz chip with support for both DDR2 and DDR3 memory; it will also have the same 13W TDP as the Atom D510 processor it effectively replaces.
The D525 is expected to launch sometime in Q2 2010, and be accompanied by a single-core version (perhaps the D425, if Intel continue their naming scheme).  No word on pricing for the new chip, but we're guessing it'll show up in all-in-ones like Lenovo's C200.