Intel Apollo Lake CPUs promised to bring cheaper, thinner hybrids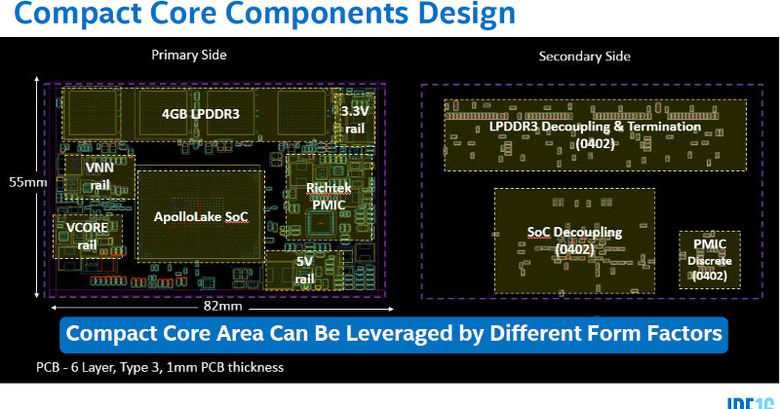 In same areas, the PC landscape hasn't changed one bit. But in a relatively smaller corner, a new breed of computing devices are growing in number. Sometimes called 2-in-1 laptops, tablet/laptop hybrids, convertibles, and even detachables, this sub-category is being poised by some analysts to help mitigate the decline of the PC market. And Intel naturally wants its processors to power that next wave. At its annual IDF, it announced Apollo Lake, the platform for its next gen Atom processors that it envisions will make such devices more powerful while also bringing down not just costs but also sizes.
Apollo Lake succeeds Cherry Trail as the next platform for Atom-based devices, based on the Goldmont x86 microarchitecture. Although still based on a 14 nm process, Apollo Lake's key differentiating factor will be its Gen9 graphics architecture, the very same use in the beefier Skylake processors. This would allow devices powered by an Apollo Lake chip to offer hardware-based playback of 4K content, thanks to support for hardware decoding of HEVC and VP9 codecs.
Apollo Lake will open up a wider range of choices for manufacturers when it comes to which hardware components to use with it. The chips support RAM of DDR4, DDR3, LPDDR3, and LPDDR4 types. Storage possibilities include SATA, PCIe x4, and eMMC 5.0. Intel is also advocating USB Type-C strongly, which can be used for both power and data transfer.
Being an Atom processor, Apollo Lake is naturally intended for a different class of PCs, like hybrids, convertibles, tablets, all-in-one computers, mini PCs, and more. In other words, PC where space is just as an important constraint as other factors. In particular, Intel is setting its sights on a "cloudbook" category, practically an Intel-based version of the ultra-thin MacBook that Apple has launched. Also Chromebooks. Such devices would normally have Full HD screens, 2 GB of RAM, and 32 GB of storage. With Apollo Lake, Intel hopes that OEMs can switch to higher specs, like more RAM, for example, but still maintain the affordable price tag.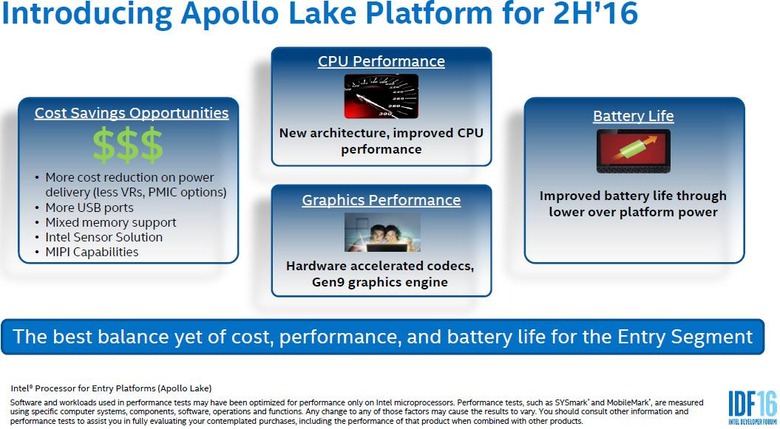 Actual devices based on this Apollo Lake platform aren't expected to hit markets until the second half of the year. Actual chips will carry Celeron and Pentium brand names.
VIA: AnandTech