Intel And AMD Hexacore CPUs Incoming Say Motherboard Makers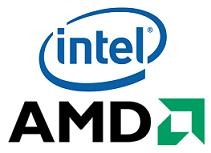 The first half of 2010 could see six-core processors dropping from both Intel and AMD, according to leaky sources at motherboard manufacturers, with both the Intel Gulftown and AMD Thuban ranges hitting desktop computers.  The hexacore CPU deluge will begin with Intel's Core i7-980X, rumored to be on the pricey side at an estimated $1,000+ per chip in March 2010, and be followed by three AMD Phenom II X6 1000T processors in May 2010.
Those three AMD CPUs are apparently the Phenom II X6 1075T, 1055T and 1035T, each 45nm process chips, and will be preceded by new chipsets – the 890FX (RD890) and 890GX(RS880D) – in April 2010.  The company is also expected to announce a new quad-core chip, the Phenom II X4 960T, alongside its hexacores.
Unsurprisingly nether silicon company would comment on the rumors.  Last October we heard rumors that tipped a new, Intel hexacore based Apple Mac Pro desktop complete with 128GB of RAM, potentially securing an exclusive on the new processor that would push more general availability back into Q2 2010.