Intel 3rd-gen Core Ivy Bridge processors launch today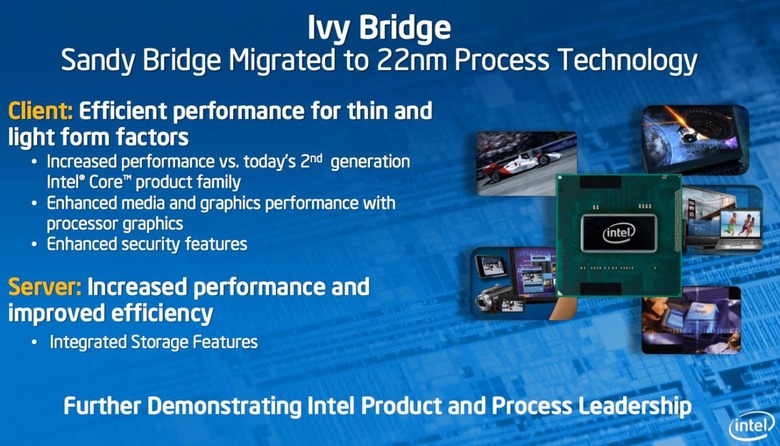 Intel's new Ivy Bridge third-gen Core processors have been officially detailed, beginning with quadcore assault on the high-end laptop and desktop market, and with dualcore and ultrabook versions following this spring. Thirteen new chips are in the initial line-up, Intel told the BBC, built on 22nm processes using 3D Tri-Gate transistors for what the company claims will be significant performance increases along with a reduction in power consumption.
The 22nm Ivy Bridge Core processors deliver "about 20-percent more processor performance using 20-percent less average power" according to Intel PC business lead Kirk Skaugen. They should eventually show up on hundreds of devices, he promises; "There are more than 300 mobile products in development and more than 270 different desktops," Skaugen confirms, "many of which are all-in-one designs."
Most of the initial line-up of chips will be aimed at desktops, with low-power variants and more mid-range models expected to come later in the spring. Intel isn't taking any chances with availability, however; Skaugen promises "50-percent more supply than we had early in the product cycle of our last generation, Sandy Bridge, a year ago."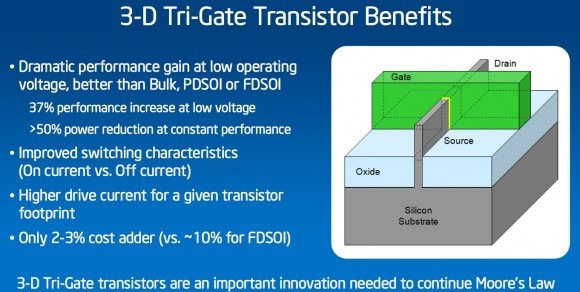 3D Tri-Gate chips spear the transistors upward, out of the silicon base, rather than leaving them 2D; that allows for denser packing on each chip, with three transistors to each jutting "fin". According to Intel, despite the extra complexity, production costs have only increased by 2-3 percent.
We're expecting an almighty gush of companies announcing 3rd-gen Ivy Bridge updates to their ranges today, with availability likely to be in the next couple of weeks.