Intel 32nm Medfield SoC Reference Tablet spotted in the wild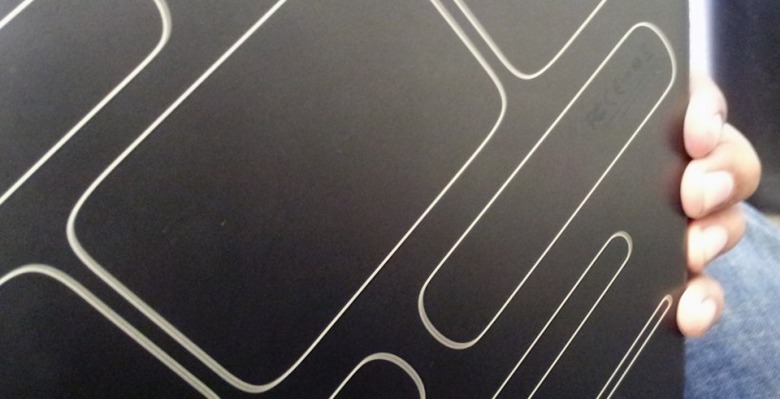 Earlier this week we were treated to some basic numbers on what it means to own a device with the upcoming Intel 32nm Medfield chip on it, and today we've got our own source stepping forward with a few images and a hands-on account of the Intel reference tablet that'll be showing off the SoC in the near future to developers. What our source has here is a lovely tester tablet he's picked up from either a very foolish Intel worker or someone who found it and had no idea what it was worth because a mere $50 USD brought this tablet to our new buddy's hands. What you'll see here is a few slightly blurry photos (taken with a Galaxy S II Epic 4G Touch, mind you) of the tablet in all its glory along with a few words on its quality.
This tablet, again, represents the next generation of chips as made by Intel to provide the world with futuristic computing prowess in the mobile environment. This tablet runs Android and is out-clocking every dual-core processor on the market today from what we understand. That said, the hardware is what we're looking at today, the hardware in the tablet appearing above and below — here's what our source has to say about the device:
"The build of the tablet is actually really great! It doesn't feel cheap at all – it's thin but it has a nice weight to it which doesn't make it feel cheap. It has the power button on the left top of the tablet, with the volume rockers to the right of the power button, and the headphone jack is on the left side of the tablet. To the right of the table is the slot for microSD card and at the bottom of the tablet are three connections – one for the weird power, Micro-USB and a Mini-HDMI connection. The screen retains all the fingerprints so I'm guessing the glass doesn't have its final finish, thats why it gets dirty so easily." – ANON
We'll be getting a bit more information about the innards of the tablet as well as the software running, and perhaps even some more benchmarks before the day is through. Stick with us here on SlashGear to see more as this story unfolds!