Intel 2010 desktop roadmap tips Core i3 and i9, frugal Core i5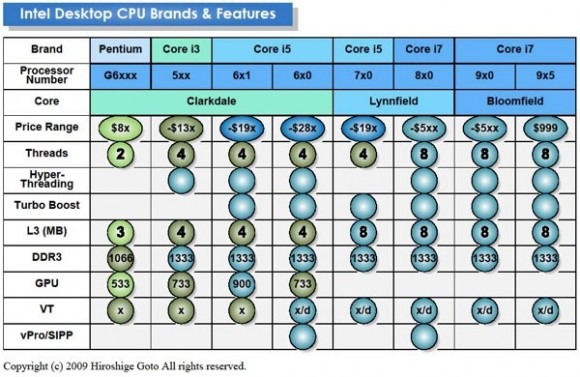 Charts purporting to illustrate Intel's plans for its desktop processor range through 2010 have emerged, bringing with them talk of a frugal version of the Core i5 together with budget Core i3 CPUs.  The chart also discuss the previously-leaked Core i9 processor, though that's not expected to arrive until the second quarter of 2010 despite having already been caught in the wild.
The budget range of Core i3 chips will offer four threads and still include HyperThreading support, and be based on the Clarkdale core technology; however they'll lack Intel's Turbo Boost functionality.  As for the frugal Core i5 chips – which will use the "S" suffix – they'll cut the TDP from 95W to 82W, which will hopefully mean less cooling is required, the system is quieter, and overall power consumption is reduced.
[via Engadget]