Instagram rolls out direct short voice messaging option for all users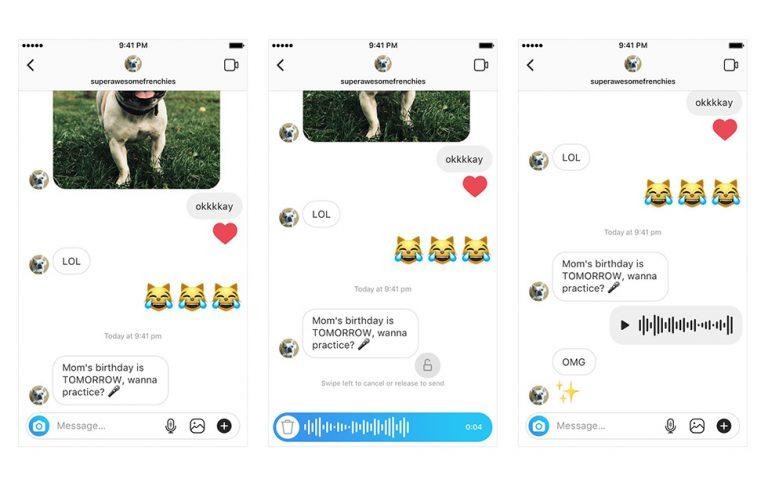 Instagram is rolling out voice messaging support to all users across the globe, the company has confirmed. With the new feature, which was first tipped earlier this year, users are able to easily send brief voice messages to another user privately, a feature already available on Facebook Messenger and WhatsApp.
Instagram confirmed the new feature's arrival in a tweet this morning, revealing that it is available in Direct as a new way to DM someone. The new feature increases accessibility for individuals who may struggle to send text-based messages, also offering a more personal way for someone to send a friend or family member a message.
Starting today, you can send voice messages in Direct. Talk the way you want to be heard, whether by whispering what you're up to or shouting a compliment. pic.twitter.com/3rkdQneNXO

— Instagram (@instagram) December 10, 2018
The feature is more or less identical to the one available in Facebook Messenger; with it, users press and hold the microphone button, speak their message, and then release the button to send it. Users receive the message with visible sound waves and a 'Play' button. The audio message is played directly within the Instagram app.
News of Instagram's audio message feature first appeared via TechCrunch four months ago, calling it a walkie-talkie feature. Whether the feature will prove popular with Instagram users is yet to be seen. The service has historically been viewed as a way to share photography, but Instagram has increasingly pushed beyond that box, adding everything from videos to shopping.
Having a voice message option within apps dedicated to messaging, such as WhatsApp, is welcomed, but many users still prefer text-based messages, which can be read in silence rather than requiring the user to connect earbuds for the same privacy. Some Instagram users have criticized the new feature as unnecessary and unwanted.