Insta360 Air now on sale to turn Android, PCs into 360 cameras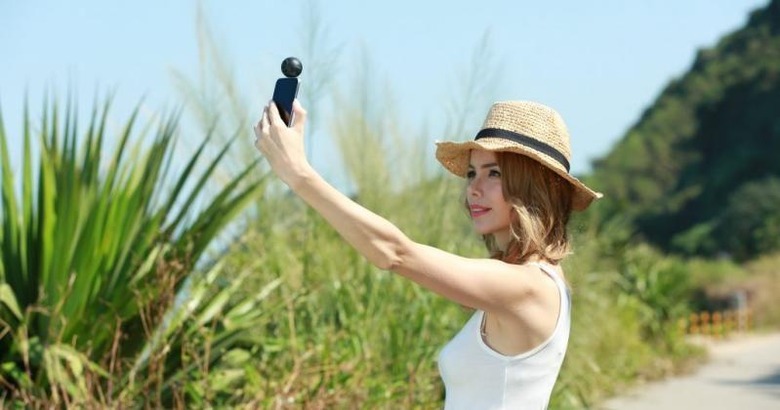 It wasn't too long ago when 360-degree cameras were the hot thing in both mobile and photography spaces. You had the Samsung Gear 360, the LG 360 CAM, the Ricoh Theta, and, of course, the Insta360 Nano. That last one, however, was restricted to the iPhone 6 and latter only. So late last year, Insta360 went to Indiegogo to give Android users their due, the spherical Insta360 Air. After a successful run, the highly portable and, dare we say affordable, 360-degree camera is now available for purchase in the US and Europe, potentially turning anyone into 360-degree artist.
Unlike the other smartphone-centric 360-degree cameras mentioned above, the Insta360 Air, has one oddity. It has to physically connect to a smartphone or computer, via USB-C, USB 2.0 or 3.0, or micro USB. While not exactly a problem for a desktop or laptop, on a smarpthone that means plugging it into the bottom of the device. Which means you'll have to use the phone upside down.
In return, the Insta360 Air allows you to easily use your phone's screen as the viewfinder, without having to worry about wireless connection problems or lags. It also lessens the risk of losing the rather small ball when recording a 360-degree video. The camera records videos in 2560x1289 resolutions at 30 fps and takes stills at 3008x1504 resolutions.
The Insta360 Air is arguably one of the more affordable 360-degree cameras in the market, at only $129. It can be purchased online from Amazon in the US, UK, Canada, France, Germany, Italy, Japan, and Spain. They are also available in B&H and Fry's physical stores in the US.
Now that it's on retails shelves, you might think that Insta360 is done with the Air. Not quite. It is promising that soon, on a still undisclosed date, it will be rolling out a firmware update that will bring real-time image stabilization to the camera. It also promises regular updates for both camera and mobile app, which we'll have to see to believe.
SOURCE: Insta360