Insta360 Air VR camera clips onto any Android smartphone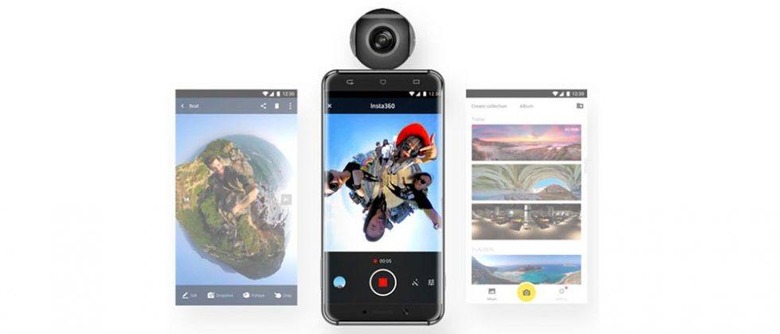 A new VR camera product has launched on Indiegogo, this one designed for use with any Android smartphone that features a micro USB or USB-C port. When attached, the camera records 360-degree content that can be broadcast live, uploaded to services like YouTube, or shared directly with friends via social networks. The camera can also be connected directly to a laptop where it functions as a 360-degree webcam.
The Insta360 Air is round and about the size of a golf ball, and it features two 210-degree fisheye lenses, one on the front and one on the back. The content captured by these two lenses/sensors is stitched in realtime to create a single 360-degree high-definition video — stills are captured at 3K resolution and videos are captured at 2K resolution, though some phones can handle 3K resolution video.
The company behind Insta360 Air boasts some fairly advanced features, including electronic image stabilization that keeps videos steady despite the real-time stitching; this addresses things like shaking and vibrations. Other features include an adjustable ISO, 30fps video capture, and an adjustable shutter speed.
Joining the camera is a mobile app that provides editing tools for both 360-degree photos and videos. As well, users can choose between four different video modes, including the "little planet mode" that reduces one's environment to a small sphere, a flat mode, sphere mode, and "VR mode" for making content viewable using Cardboard and similar.
The product is currently being offered through Indiegogo, where the Insta360 Air in matte black is offered with a laptop transfer cable, phone mount, tripod, and adapter for $125 USD. Shipping to backers is expected to start in March 2017.
SOURCE: Indiegogo