InSight snaps its first selfie and shows off its workspace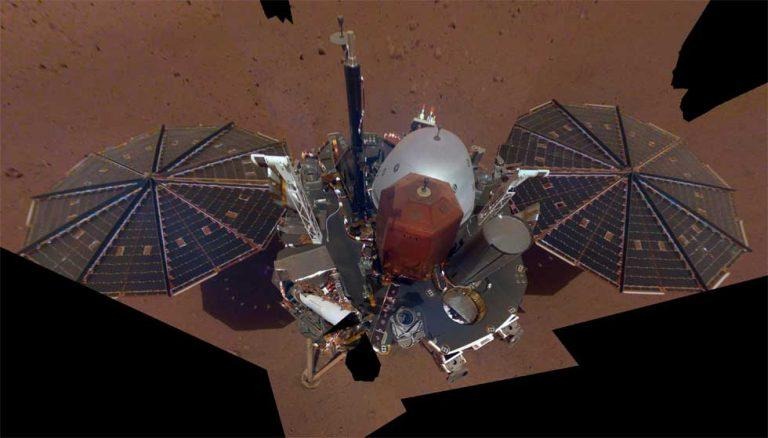 NASA's InSight spacecraft has only been on the surface of the Red Planet for a short while, and already it has shown off some cool photos and first ever facts about Mars. Earlier this week InSight sent NASA its first ever Mars wind recording. We've also seen an image of the spacecraft readying its robotic arm.
Now NASA has shared the first selfie of InSight taken using its fancy robotic arm. This isn't a single image, it's a mosaic that was made up of 11 different images. The process of making a mosaic of smaller images to form one large image is something NASA has done with other missions like the Curiosity rover. Multiple smaller images are taken and then stitched together later.
NASA has also announced that the mission team has received the first look at the full workspace in front of InSight where it will eventually place its instruments. The workspace is 14' x 7' crescent of terrain directly in front of the spacecraft. That image is a mosaic made up of 52 smaller images.
That image will be studied in detail when scientists and engineers are trying to determine where the instruments should be placed. Scientists need to find a location with level ground and avoid setting the seismometer and heat-flow probe on rocks that are larger than about a half-inch. The team has identified from the image that there is a "near-absence of rocks, hills, and holes" they note that makes the terrain "extremely safe" for the instruments.
The landing site for InSight at Elysium Planitia was chosen specifically for the fact that it is "relatively free" of rocks. The hollow where the spacecraft currently sits is a depression made by a meteor impact that filled with sand later. NASA says that sandy composition will make it easier for the heat-flow probe to bore down to the 16-foot depth below the surface it needs to operate.