Inside The Mitsubishi Mobile Marketing Showroom: Massive 82 and 92-inch 3D TVs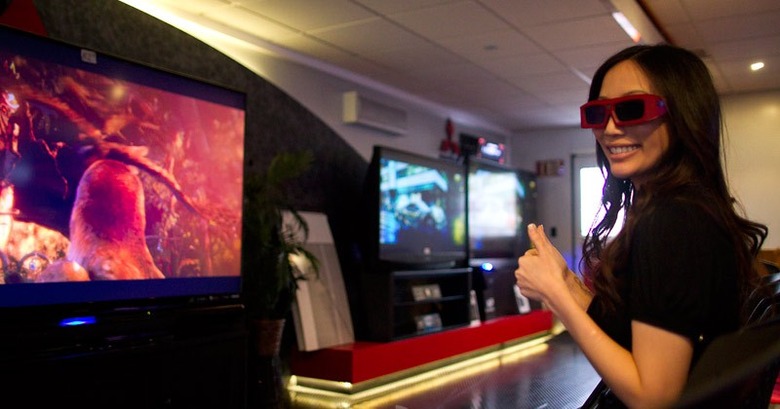 Currently the world's largest mass-produced rear-projection flat screen, the Mitsubishi 92-inch 3D TV was first unveiled at CES earlier this year. But this morning we got an up close and personal look at the mammoth flat screen along with its 82-inch sibling at the Mitsubishi Mobile Marketing Showroom. It is truly an immersive cinematic experience to be had if you can afford the price, the space, and don't mind looking like a complete dork sometimes—as illustrated below.
Mitsubishi's 3D Home Cinema TV series uses an integrated 3D emitter that functions with special battery powered 3D viewing glasses. The pair I was donning was a super durable rubberized set used for high-volume demo purposes. For regular home use there's a slightly more flattering alternative as well as third-party options. However, the glasses are not included with the purchase of the TV. They come in a bundled kit for $399 that includes two-pairs of glasses and a Blu-Ray Disc of 3D Disney content. You can also purchase single pairs for $149.
The minimum comfortable viewing distance is roughly 9 to 11 feet away for the 92-inch model and likely greater for those prone to motion sickness. I was able to sit about 6 feet away from the 82-inch model without any discomfort and that may have been due to the sharpness of the picture quality. The series employs the same DLP technology used in most 3D cinema screens with a 1080p resolution and 1000x faster pixel response time from a 120Hz sub-frame rate for smooth and crisp fast action scenes.
The image below of the 82-inch model gives you a better idea of just how big are these displays. The 92-inch model—not pictured—measures a whopping 4 feet tall, 6 feet wide, and almost 2 feet deep.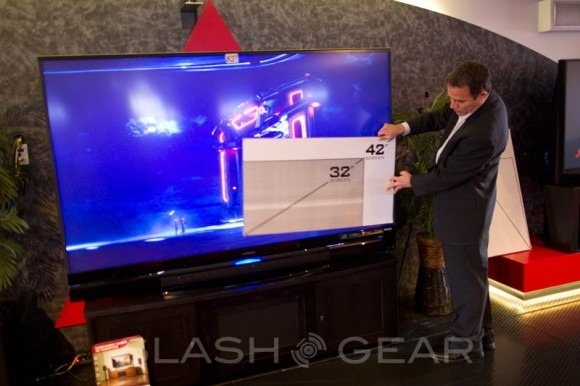 Connectivity features include StreamTV that lets you access the internet for various services including VUDU 3D movie streaming, Pandora, Facebook, and Twitter. The TV is Bluetooth enabled so that music can be streamed from cellphones or other Bluetooth enabled devices. The Mitsubishi TV Control app is available for download from iTunes that converts your iPhone, iPod Touch, or iPad into a TV remote. Future developments may allow for streaming content from your mobile devices. Other connectors include four HDMI inputs, a USB media player, and a PC/DVI port.
As for sound, the series features Mitsubishi's Unisen 5.1 Surround Sound that consists of 16 to 18 speakers beamed separately for an immersive audio experience without requiring additional speaker components. And should you wish to add a subwoofer, it can be connected wirelessly. This eliminates the usual mess of speaker cables and wires, and should keep the missus happy.
Mitsubishi's Director of Product Development, David Naranjo, was kind enough to talk with us and confirmed that pricing would be $6000 for the 92-inch model, which won't be available until mid-summer. The first video below is a short interview and the second video is a demo of the Unisen 5.1 Surround Sound.
[vms 26356cc127852413ea3b]
[vms 6d9041cfd3f7de18e334]